St. John's University announced Tuesday, April 10, that it selected Michael Hemesath, an economics professor at Carleton College, as the university's 13th president.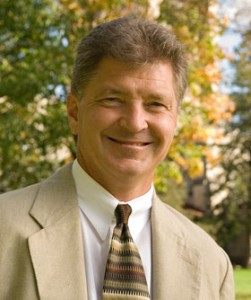 Hemesath, 53, becomes the university's first full-term lay president, meaning he is not a priest or a member of a religious order, in the school's 155-year history, although the school did have an interim lay president in 2008-09.
Scheduled to begin his new position on July 1, Hemesath, a 1981 SJU graduate, said in a press release Tuesday that he hopes the transition will be a smooth one.
"The selection of a lay president represents a new era in the long history of St. John's University, yet I want to emphasize the continuity that will be at the heart of this transition," Hemesath said.
Michael Hemmesch, St. John's media relations director, said the decision will bring changes, but Hemesath understands the university's religious roots.
"This is going to be a change, but in many ways since Dr. Hemesath is a graduate of St. John's… he understands the influence of the Catholic Benedictine tradition here at the university," Hemmesch said.
Catholic colleges around the country are hiring more lay administrators, even presidents. St. Thomas has had priests as president since its founding in 1885. In February 2011, the St. Thomas Board of Trustees made a revision to the university bylaws, which previously said that St. Thomas' president must be a Catholic priest. The revision states the university may hire a layperson as president, in addition to the possibility of another priest-president.
With the bylaw change, the board agreed that the school would continue to hold a "strong preference" that a priest or religious person serve as president.
Doug Hennes, vice president of university and government relations, said although the strong preference is still there, the university would choose the best candidate for the job if faced with hiring someone new. The Rev. Dennis Dease has been president of St. Thomas since 1991.
"We'll choose the best person that's available at the time when we need to choose a new president," Hennes said.
St. Johns' decision to hire its first lay president will have little impact on St. Thomas, Hennes said. He doesn't see this transition having "any more influence on the St. Thomas board than the selections of other lay people to be Catholic presidents around the country."
While St. Thomas faculty seem neutral about whether a layperson is better for the position, St. John's sophomore Nick DeWitt thinks it will be a positive step for the school and students alike.
"I think it's better to have a layperson as a president because I think that separates the school from the monastery just a little bit," DeWitt said. "I mean we're still very involved with them, but to have a leader who went to school here and knows it a little better, it's nice for the students."
On the other hand, St. Thomas sophomore Emily Hoffmann thinks it's important for a Catholic school to have a Catholic president.
"The way I've looked at it is a Catholic university should be highly tied to its Catholic origins. I think that the Catholic identity needs to be upheld," Hoffmann said.
Hennes said he thinks Hemesath will be a great president.
"It sounds like he's very qualified, and I'm sure he'll do a great job for them," Hennes said.
Hemesath graduated summa cum laude in 1981 from St. John's with a degree in economics. He then attended Harvard University, where he earned a master's degree and doctorate in economics. He has been a Carleton economics professor since 1989, and he has held the college's faculty president position since 2009.
Briggs LeSavage can be reached at lesa4364@stthomas.edu.