St. Thomas' Hairworks permanently closed Wednesday, Oct. 28, after the barbershop and the university failed to reach an equipment cost agreement.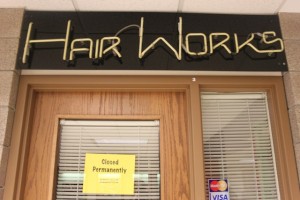 Zac Pease, Hairworks' manager since 2006, said he planned to move the barbershop to the Anderson Student Center until the cost of providing manicures and pedicures became too much of a business risk.
"I didn't really want to leave, but that was the only option," Pease said. "They wanted me to purchase the equipment for manicures and pedicures, which would equal about $15,000 to $20,000. There was no guarantee I was going to make money."
Bruce Van den Berghe, associate vice president for auxiliary services, said Hairworks' departure is part of the "growing and maturing" of the university.
"Our barbershop just didn't have anything to offer more than 50 percent of our university population, and that's something that we wanted to remedy going forward," Van den Berghe said. "There's no reason why women shouldn't have the ability to have their hair cut and styled on campus, have their nails done if they want to."
Van den Berghe did give Pease credit for hiring Barb Hartwick, a women's stylist, in spring 2011.
"He had a women stylist working a little bit here and there, but for whatever reason that didn't seem to be catching on or working," he said. "So we're hoping to do a much better job in the future. So that's where we're headed."
Van den Berghe said the university is looking for a new salon operator but is not sure one will be secured by the ASC opening.
"The building is opening up on Jan. 17, so it'd be great to have someone in place by then, but I'm not sure if we'll be able to accomplish that," Van den Berghe said. "Even though the space is built out and is partially furnished, we still need to find someone, select someone, agree to terms as far as what the rent's going to be and operational hours."
Students weigh in
Senior Chris Kulseth said Hairworks' friendly atmosphere will be missed.
"It's kind of unfortunate they aren't staying," Kulseth said. "It was a pretty chill environment. The stylist was nice, and you could always just watch TV there too."
Junior Nick Henderson said even though "they provided a convenient service," Hairworks' prices were slightly expensive.
"I really won't miss that much," Henderson said. "Their prices were a little bit on the high side just for a simple buzz cut and hair cut."
Sophomore Krista Montroy said she does not think providing manicures and pedicures is a necessity for the new salon.
"I don't think it's that important," Montroy said. "I probably wouldn't use it."
Sophomore Kathryn Jacobs said providing nail service will attract more women to the salon.
"From what I've heard not many women go there (Hairworks), so maybe it'll open it up to more women," Jacobs said. "It's a good idea."
Cynthia Johnson can be reached at john3175@stthomas.edu.