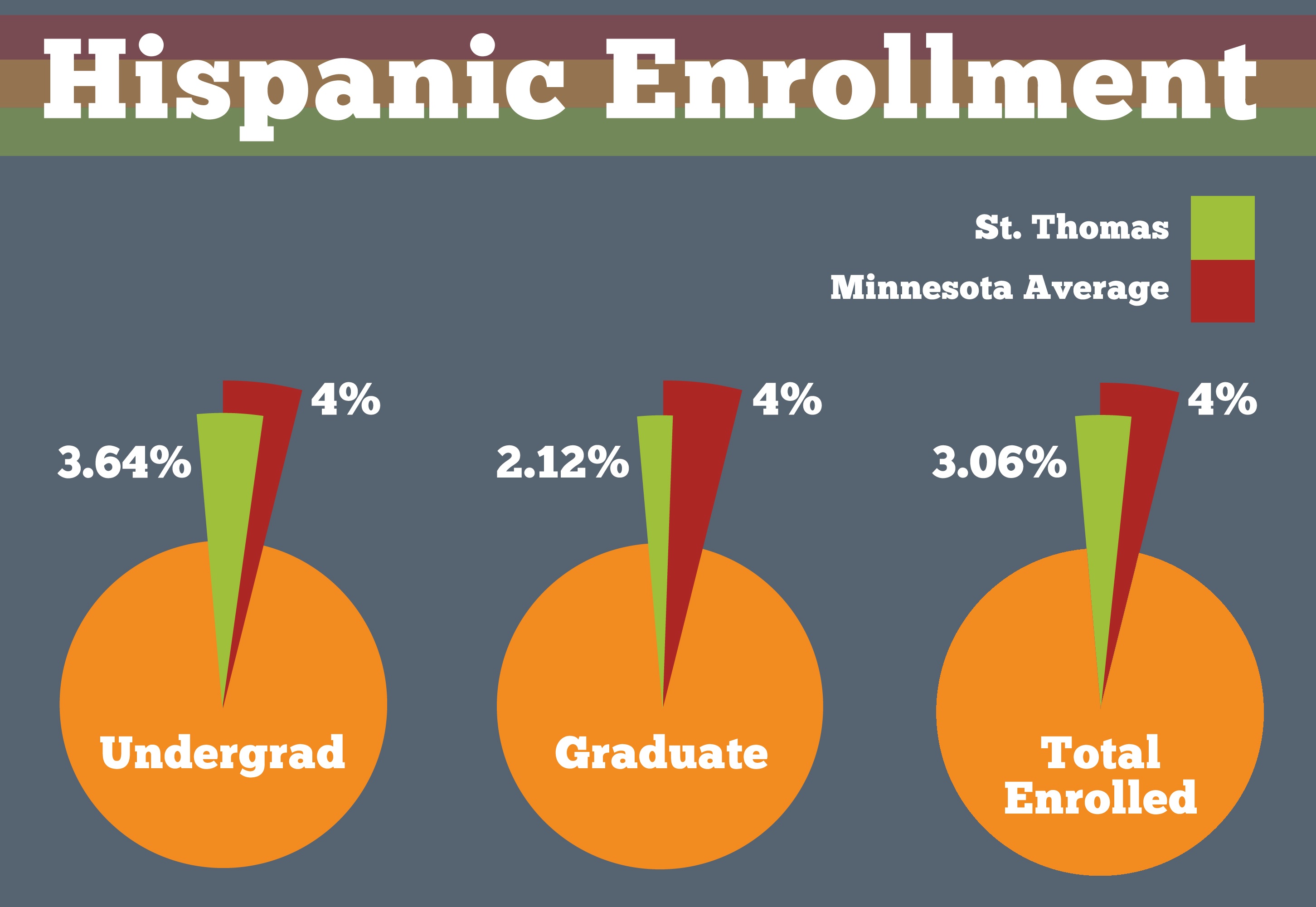 In honor of Hispanic-Latino Heritage Month, the St. Thomas Multicultural Student Services is celebrating with community dialogue and dance events.
This new idea of combining dialogue and dance will be used for all four heritage months throughout the year.
"The different Heritage months take a little time out to acknowledge cultures and build awareness," Denise Dieffenbach, MSS director, said. "And hopefully encourage students to learn more about cultures they are unfamiliar with."
The community dialogue on Thursday, Sept. 29, featured Augustine F. Romero, from the Tucson Unified School District, and he addressed the debate over the existence of Mexican-American/Raza studies and other ethnic studies departments within Arizona.
Dieffenbach thought the community dialogue was "a very compelling, energizing opportunity for students to come together and hear the speaker, hear about what's going on in Tucson and be challenged to think critically about why that matters to us in Minnesota."
Zumba classes will be offered on Oct. 4 and 6. Check in is at 11:30 a.m., and the first 10 people to arrive on each day will get a free water bottle.
Dieffenbach said MSS chose Zumba because it has a rich tradition in Latin music and culture, and it is a fun way to exercise.
Student Ana Maya is a fan of the month's activities.
"Hispanic Heritage Month is an amazing opportunity for my culture to show that we aren't just criminals or here to steal jobs like a lot of people think," Maya said. "My culture is rich with history, art, dance, food, music and customs."
Last year MSS decided to take a break from celebrating the nationally recognized heritage months because Dieffenbach said, "some people feel like it is unfair to be put in a month."
Instead it hosted several events for different cultures throughout the year. The decision to return to the traditional way of recognizing the cultures through months was made to give students more opportunities to learn about the different backgrounds.
Maya is glad MSS has returned to celebrating the different months.
"I think they have done a great job in picking the events to promote Hispanic Heritage Month because just as it is important to learn about our culture and music, it's important to know the role that the Hispanic community is playing in the United States today," she said.
Hispanic-Latino Heritage month is celebrated from Sept. 15 to Oct. 15 every year. Sept. 15 marks the anniversary of independence for five Latin-American countries. Mexico and Chile also declared their independence during the month.
Jessica Barton can be reached at bart2049@stthomas.edu.