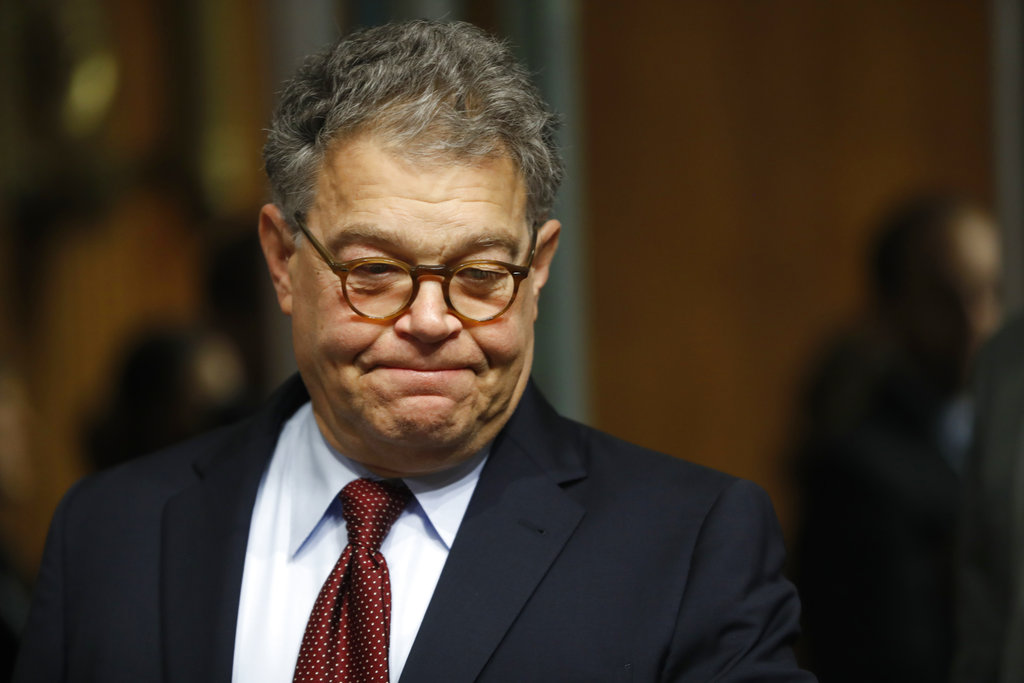 The St. Thomas professor who lost to Minnesota Sen. Al Franken in the 2008 Democratic-Farmer-Labor Senate primary said Thursday that he believed Franken was not resigning for the right reasons.
Jack Nelson-Pallmeyer, an associate justice and peace studies professor, denounced the senator in an interview after Franken announced Thursday morning that he was resigning from his position following allegations of sexual assault from at least eight women.
"I think he needs to resign, so that is a wise choice," Nelson-Pallmeyer said. "I am a little disappointed in the fact that I have never felt in his apology that he has actually apologized for his behavior."
Nelson-Pallmeyer added that Franken needs "to actually acknowledge wrongdoing."
Franken resigned just a day after new allegations brought the number of women alleging misconduct by him to at least eight. On Wednesday, one woman said he forcibly tried to kiss her in 2006, an accusation he vehemently denied. Hours later, another woman said Franken inappropriately squeezed "a handful of flesh" on her waist while posing for a photo with her in 2009.
"I know in my heart that nothing I have done as a senator — nothing — has brought dishonor on this institution," Franken declared Thursday.
Angela High-Pippert, chair of the St. Thomas political science department, said she wishes Franken would have resigned earlier.
"This is a bit of a hollow victory for people who are concerned about these kind of issues," High-Pippert said. "I mean, it's good news, but it would have been better news 2 1/2 weeks ago."
Still, the recent surge of sexual assault allegations that have ended the careers of powerful men will translate into progress for everyone, High-Pippert said.
"I think it takes a lot of courage for people to come forward, and people are coming forward with their names attached and specific instances, and that is real progress," High-Pippert said. "I think that what this movement has shown is that people will no longer be quieted."
Franken's resignation means Minnesota Gov. Mark Dayton, a fellow Democrat, will name a temporary replacement. The winner of a special election in November 2018 would serve through the end of Franken's term in January 2021.
Dayton said after Franken's remarks that he hasn't yet decided on an appointment to fill the seat but expects to announce his decision in the next couple of days.
St. Thomas junior Erin Melody had interviewed for a spring internship at Franken's St. Paul office. Now she does not know what she will do next semester.
Melody was hopeful that Dayton would appoint a woman to the temporary position.
"When he was talking about his successor, he said 'she,'" Melody said of Franken's Thursday speech. "He doesn't have the ability to appoint his own successor, but that would be amazing if there was another female senator in Minnesota."
Many have floated Lt. Gov. Tina Smith as Franken's replacement. Melody said she hoped state Rep. Erin Murphy would be named to the position. Murphy's St. Paul district includes most of the St. Thomas campus.
Nelson-Pallmeyer has also been rumored to be on Dayton's list of candidates. He says he has "no idea" if he's on that list, but he would accept the interim position if Dayton asked him. The professor said he thinks it is most fair if the temporary replacement does not want to run for the seat in 2018. Nelson-Pallmeyer himself is not interested in running in 2018.
"I think there should be a kind of level playing field," Nelson-Pallmeyer said. "I think it's important that he appoint someone who understands the limitations of this appointment, would carry it out with integrity, but would clear the pathway then for the electoral path."
Whoever Dayton names to the position, High-Pippert said that she wants the process for Franken's replacement to move quickly.
"I think public elected officials are replaceable. All of us are replaceable in our work," High-Pippert said. "And so we will all get along just fine."
Sophie Carson can be reached at sophia.carson@stthomas.edu.
The Associated Press and TommieMedia Director Lauren Andrego contributed to this report.