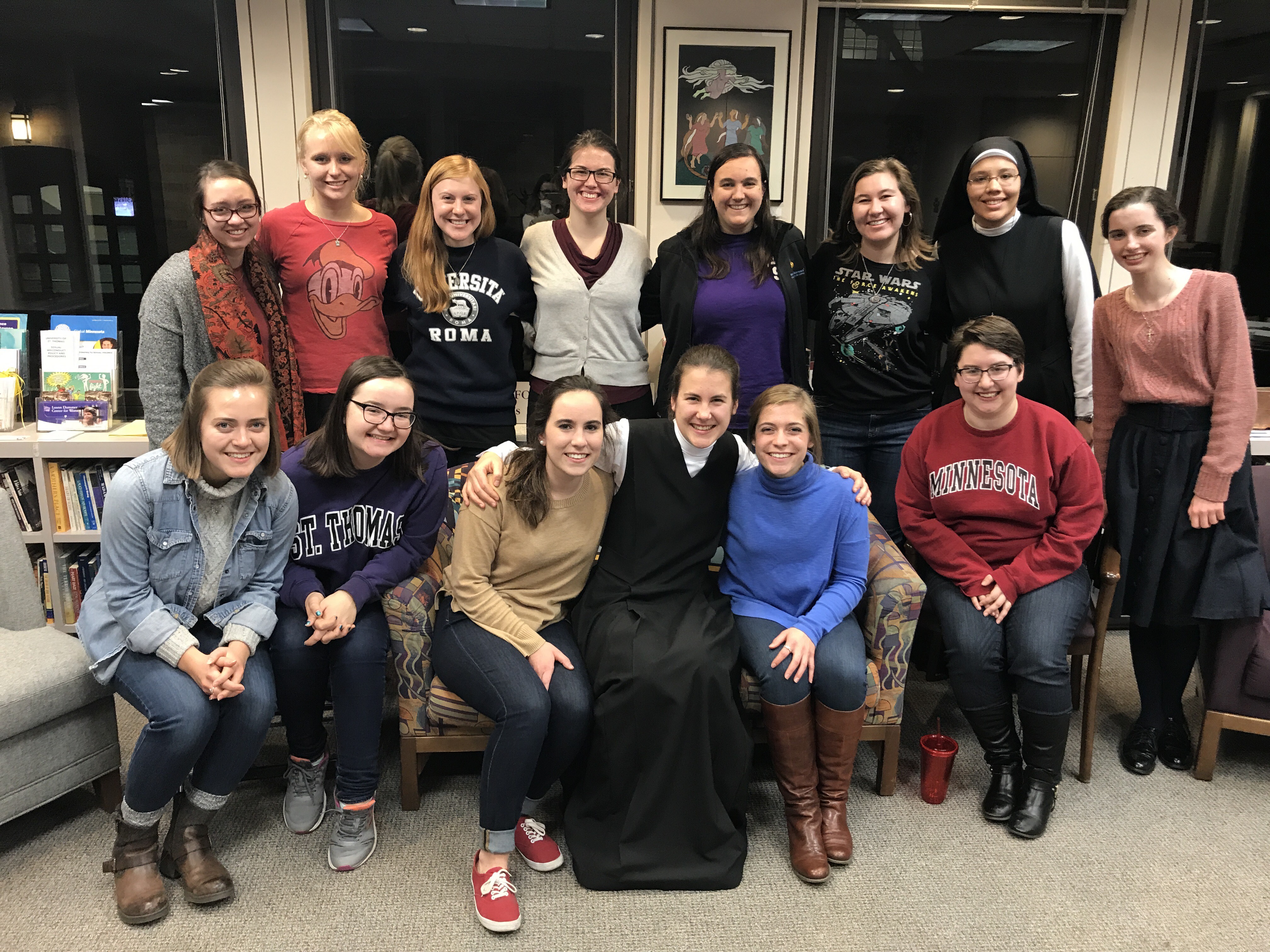 Former St. Thomas student Maddie Shogren became in July a sister with Pro Ecclesia Sancta, a Catholic religious community of priests, sisters, brothers and lay people that works with the families and students in and around the Church of St. Mark in St. Paul.
Shogren was a member of Catholic Women's Leadership while at St. Thomas. She joined CWL as a sophomore in 2014 and became the president her senior year. At a recent CWL meeting, she said the club was a vital part in her decision to pursue religious life.
"(CWL) had more of an impact on me than I ever thought it would," Shogren said. She added that the club and the friends she met through it helped her to grow as a Catholic, deepen her faith and introduce her to religious life.
"I never had much exposure to sisters until the club," Shogren said. "I thought they were so cool and just so normal."
Sister Emy Ychikawa, who worked with CWL, offered Shogren spiritual direction by strengthening her prayer life and encouraging her to go to mass and weekly confession.
The summer after her sophomore year, Shogren considered that she might be called to religious life. She said she prayed to God to confront him about a lack of inner peace she had been feeling.
"I felt him speak to the depths of my heart," Shogren said. "He said… 'I want more of you.' I felt like I received a grace in that moment."
In her junior year, Shogren continued to learn about religious life and different available vocations. She attended different retreats, including one in Pennsylvania where she discovered that she was truly called to a religious vocation.
The following summer, after working with a group of sisters dedicated to teaching, Shogren realized that teaching was not what she was supposed to be doing.
"I had felt the same frustration that I had felt the summer before," Shogren said. "I felt like there was a flame in my heart that wanted to do more."
Shogren applied to join the St. Paul community of Pro Ecclesia Sancta in fall of her senior year, and officially joined on July 3, 2017. While the religious community has communities across Peru, Ecuador, Spain, Minnesota and California, its motherhouse is located in Lima, Peru. Next year, Shogren will travel to Peru for her formation.
Shogren, who was a secondary math education major at St. Thomas, said that St. Thomas was one of her greatest blessings because she was able to discover her vocation. She added that Catholic Studies elective courses and adoration on campus helped her to realize her path.
Shogren's story and presence at the CWL meeting Nov. 8 inspired members in attendance that night. Sophomore Aileen Shea said Shogren's ability to trust that God's plans were better than her own was particularly admirable.
"It's good to see other young people choose religious life," Shea said.
Junior Olivia Steeves, the current president of CWL, said she could see the difference in Shogren now that she has found her calling.
"Seeing her as a sister, there's definitely an extra sense of joy and aliveness," Steeves said. "It's beautiful and it makes me very happy."
Kailyn Johnson can be reached at john4298@stthomas.edu.