This year's incoming freshman class is on track to be the largest in St. Thomas history, with 1,522 students currently enrolled. The record class size is already posing challenges to university officials.
On-campus housing is limited, which means staff members in the Department of Campus and Residence Life have had to think up creative housing solutions. One idea was to convert the Koch Fitness Center into a men's dormitory.
Living in former fitness center
"The fitness center was going away anyway, and they were trying to figure out what to do with it," said Assistant Director of Residence Life Bryan Helminiak. "It will house 15 first years and one student RA and will unofficially be called Brady Satellite."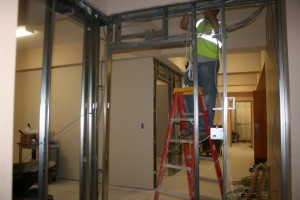 The fitness center is being partitioned into two-person dorm rooms. The space in front by the floor-to-ceiling mirrors is being walled in and turned into a lounge. The men who live in the new space will be considered residents of Brady Hall.
"We're trying to give it an identity of its own …and we're also working on how we will get them to feel included," said Associate Director of Residence Life Cari Fealy. "They'll be connected with Dowling through social events and they will do programming a lot with first floor Brady."
The Brady Satellite housing arrangement is likely temporary but there's no decision yet on what the space will be used for in the future, Fealy said.
She added that Murray Hall will once again house women instead of men, because the gender balance of the class of 2014 is 50-50, compared to last year's class with its higher percentage of men.
Lounges are also being converted into expanded housing – six lounges in Brady Hall will house four men each and five lounges in Dowling Hall will house six women each. A few chaplain rooms that are now empty due to the university's gradual shift to a peer ministry program will also house students.
But even with all the expanded housing, Residence Life is still short on space.
"Every woman who has requested housing has some sort of housing," Helminiak said. "But we currently have 43 men on a waitlist for on-campus housing."
There is more on-campus housing available for women than men, so even though the gender balance is equal, some men might end up commuting from home or making the tough decision to not attend St. Thomas, Helminiak said. He added that on-campus housing is not guaranteed, but there's still time for some students to decide not to live on campus, which would open up spots for those on the waitlist.
The unprecedented size of the class of 2014 is also affecting classroom sizes, faculty-student ratios and class registration, said Director of Academic Counseling Susan Anderson, who is helping run orientation and registration sessions.
"Every student has been preregistered for one or two classes before they come to orientation," she said. "We're making sure the spaces available in classes are being adequately monitored…and we're watching the student-professor ratios. More adjunct professors might be hired."
Reasons for jump in class size
The Office of Admissions was aiming for a freshman class size of about 1,350 but got almost 200 more students than expected.
"It's been an interesting year," said Associate Vice President for Admissions and Financial Aid Marla Friederichs. "We use past admissions data to predict future enrollment trends, but each year the historical data has been less effective."
Friederichs said the reason for the large class size was not because they accepted more students than in past years, but simply because more students chose to enroll than in previous years.
"The idea that we have admitted more students to get a bigger class – we haven't done that," she said. "The idea that we have admitted more students and they're of a lower quality – we haven't done that either."
Class rank, GPA and ACT score averages for the incoming freshmen are either on par with or above previous years, Friederichs said. The class has more out-of-state students than last year's freshman class and 11 percent are students of color compared with last year's record 14 percent.
This year, 4,338 freshmen were accepted to St. Thomas out of a total of 5,651 applications – an acceptance rate of 77 percent. Last year, slightly fewer students were accepted (4,374) but the number of applications was higher (5,999), leading to an acceptance rate of 73 percent.
Incoming freshman Corey Glynn said at the June 16 orientation session that he was fine with the class size, but it was a big change for him.
"The freshman class will be about fifteen times larger than my senior class," Glynn said.
Friederichs said some MIAC schools are seeing increases in class sizes while others are seeing decreases. She said the higher number of students choosing to attend St. Thomas could be due to a number of factors.
"There's certainly a lot of excitement about the new buildings – prospective students see a vibrant campus," she said. "There's a lot of visibility around everything from the academic things going on such as the Young Scholars grants to the athletic program and the outcomes St. Thomas provides, the options you have when you're done here."
The financial aid office has continued to send out "strong, strategic financial aid offers," but the offers are not proportionately larger after tuition increases are considered, Friederichs said.
Predicting how many students will be in a class is a calculated risk, and online applications and online college searches have made it even harder for colleges to predict how many students will apply and eventually enroll, she said. But she said they will continue to improve how they estimate enrollment rates to ensure classes stay at manageable sizes.
"It's a big class but we're excited about it," she said. "The people working with them in orientation keep saying they're the best class they've ever had, so that's fun to hear."
Katie Broadwell can be reached at klbroadwell@stthomas.edu.
Rebekah Frank contributed to this story.