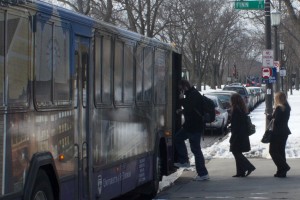 Tracking the St. Thomas shuttle may become easier for students in the future, but someone is going to have to pick up the bill first.
The Undergraduate Student Government said it is moving forward with its plan to install an application that will allow students to track St. Thomas' campus shuttles through GPS on their smartphones or computers, even though Double Map Technology, the company developing the tool, is now asking St. Thomas to pay for it.
"When we originally spoke with the company that we were looking at going with for this technology, they said that it would be free," USG president Mike Orth said. "That has changed because the company has most likely grown and so, we would have to pay for the technology now."
Orth said he is concerned about where the money for this project will come from.
"I've made it very clear to the administration that it won't come from USG. It won't come from the student activity fee money, because it is a university wide issue," Orth said. "Students, staff and faculty will benefit from it. USG doesn't believe that it should come from the student activity fee money."
Freshman Megan Fischer agreed that the financing for the tracking app should come from university funds and not student funds.
"I would feel a little disappointed if it just came from our funds because teachers and faculty would be using it also. It would be nice to have it come from the university funds seeing that the whole university would be using it," Fischer said.
Sophomore Adam Ben Salem does not think the project is necessary if it is going to cost the university money.
"I don't think it's something necessary. I think it's just the convenience of today's world of technology and everything," Ben Salem said. "I think pretty much everybody knows the schedule of the bus and how many times it runs a day, so I don't really see the point of having it."
Orth said he thinks it is something that will definitely happen, even though the university is going to have to pay for it.
"Everyone involved wants to see it happen. I really do believe it will happen, and it seems like everyone who we have pulled into these meetings, whether it's Public Safety, Student Affairs or anyone around the university, they all believe it will happen," Orth said.
USG is currently looking at what the best option for St. Thomas is.
"We're still looking at the same Double Map company, but we're also looking at other options as well. We definitely want to try to find the most cost-effective solution," Orth said.
Orth said he had originally hoped for the tracking tool to be released at the end of the semester, but that may no longer be the case.
"It's hard to put a timeframe on it," Orth said. "Whether or not it will happen by the end of the semester, USG doesn't exactly know, but we do want to see it happen as soon as possible for sure."
Olivia Detweiler can be reached at detw5520@stthomas.edu.