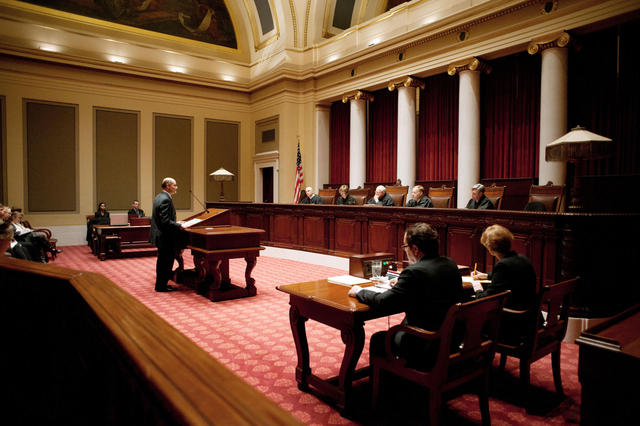 St. Thomas students are following a free speech case at the Minnesota Supreme Court involving Facebook that could ultimately give universities the right to monitor social media pages.
Tatro v. University of Minnesota began with a Facebook status update from former U of M student Amanda Tatro. After her fiance broke up with her, Tatro, a mortuary science student, posted several updates on Facebook stating she wanted to "stab a certain someone in the throat with a trocar (a knife-like instrument)" among other threatening posts.
St. Thomas law student Jennah Bordson said she thinks that because Tatro knew what the embalming tool was, her updates went beyond venting and became frightening.
"I think there is a big difference between freedom of speech and then crossing over into what can potentially be considered an assault or a threat," Bordson said. "I think the university has a right, to a certain extent, to protect and ensure that the student body feels safe."
However, Bordson said St. Thomas should not have full access to students' social media information.
"I don't think that this means to open the floodgates so St.Thomas can monitor anything that I'm posting on Facebook or Twitter because things can be taken out of context," Bordson said.
"You are free to say whatever you want. But do you have to accept the consequences of emitting certain things?" junior Jaqi Childers said. "If it is endangering students, St.Thomas should have the right to say, 'Hey, knock it off.'"
According to the Associated Press, Tatro claimed the threats were pop culture references and a result of stress; the U of M claimed that she violated conduct codes and rules of the Anatomy Bequest Program, which provides bodies for students in the mortuary science program.
However, authorities found no crime had been committed because Tatro never listed an individual's name. But according to multiple published reports, Tatro received a failing grade in the class and was required to undergo a psychiatric evaluation.
The Minnesota Supreme Court is scheduled to rule on Tatro's case in the next three to five months; the Minnesota Court of Appeals has already found in the university's favor. The Supreme Court heard oral arguments in the case in early February.
"It is important to distinguish the public university from the private," Steven Hatting, St. Thomas political science associate professor, said. "Hypothetically, if the University of Minnesota in the Minnesota Supreme Court is successful in overriding the First Amendment claims that the woman has brought forward, I think it is fair to say that a private university like St.Thomas could certainly do the same and probably a little bit more."
Hatting said he believes the case could go either way, depending on the severity of the perceived threat. However, he said the trend in the Minnesota Supreme Court of First Amendment cases is in Tatro's favor.
"The First Amendment rights of young adults in college are essentially the same as they would be for anyone who is an adult [who] is older than they are," Hatting said.
From Bordson's point of view, "If they rule in favor of the University of Minnesota, I think St.Thomas would take this seriously and probably do a campaign across school or provide an on-staff person that deals with cases or counseling for issues like this."
Bordson said she thinks a university has the authority to set up clinics or start a campus-life campaign to educate people and discourage them from making similar public statements.
"If it becomes too regulated, then Facebook will be no longer because the whole point is sharing your life with others."
Kelsey Broadwell can be reached at broa3324@stthomas.edu.