A state-required licensing procedure is preventing St. Thomas' new full-service hair salon from opening its doors in the Anderson Student Center.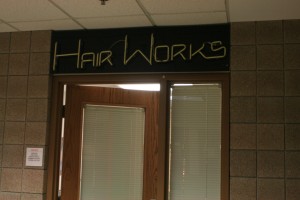 The new salon, replacing Hairworks, the former barbershop in Murray-Herrick Campus Center, was set to have its grand opening on Jan. 17 in the student center. But since the license has yet to be approved, students will have to wait to experience its amenities a little longer.
"We were hoping to get a much quicker start," said Bruce Van den Berghe, associate vice president for auxiliary services. "It's just kind of an arduous process."
Van den Berghe said that a salon operator has been hired and should have the licensure needed in about 15 days.
"He will have an actual operating license, so then he can technically open the shop if everything is in place," he said.
Van den Berghe said that this does not mean the salon will be open for business anytime soon because it still needs some additional updating.
"We didn't originally set it up to have its own washer and dryer to do the towels and other linens that they use. That's underway, and that's pretty well accomplished," Van den Berghe said. "But that was a fairly big deal. Even that required city approval."
Once the salon does open, he said that there will be plenty of promotional opportunities, like free services to make students feel welcome and allow them to meet the staff.
"I think once (students) see the kind of operation it's going to be and the services it's going to provide, they'll be pretty excited about it," Van den Berghe said. "The operator is well established; he's been in business 19 years."
Junior Kristie Miller said that she thinks the salon would have experienced more success had it opened at the same time as the rest of the student center.
"I feel like it would have gotten more business if it was open right away because everyone was really curious about what was in (the student center)," Miller said.
Freshman Amanda Branch said she doesn't think that the salon's delay will hurt business.
"I wouldn't think that it would affect it that much, especially if they do their own campaign to advertise it when it does open," Branch said. "I think people will be interested in it either way."
The salon will offer different services than Hairworks. Manicures, pedicures, and cuts and colors will now be available, and Aveda haircare products will be for sale.
"A lot of girls will definitely go there for their nails," sophomore Sarah Nunne said.
Although many of the salon's services cater to women, freshman Brandon Rodgers said that he won't feel out of place.
"I don't think it would cater toward women a lot more heavily," Rodgers stated. "I only need a haircut and nothing more."
Van den Berghe said final negotiations are underway, and the physical changes of the space are still in the works.
"I'm meeting with the owner of the salon this Friday, so hopefully we'll get resolution on a couple of things that are hanging out there right now and get a little bit better idea of when we'll be able to open," Van den Berghe said.
Baihly Warfield can be reached at warf3860@stthomas.edu.