The St. Thomas Stewardship Garden has grown under senior Ashela Richardson's leadership, who took over after the garden's former organizer, St. Thomas alumnus Aaron Hays, graduated last May.
Richardson said her professor talked to her about the Stewardship Garden and initially got her interested.
"He wanted someone to take the lead on doing biodiversity research, and I was like 'I want to do this,'" Richardson said.
The garden isn't simply for growing plants; Richardson said it serves several purposes on campus and around the community.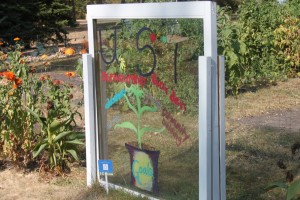 "The garden has a three-part mission," Richardson said. "It's to provide community service, undergraduate lead research and education."
Richardson said as part of the Stewardship Garden's mission, 90 percent of the produce is donated to local shelters.
"Last year, we donated to the Dorothy Day (Center) homeless shelter, providing over a thousand pounds of food," Richardson said.
This year, Richardson said they will be donating to the Neighbors' food shelf in St. Paul after growing over 700 pounds of produce so far.
Adam Kay, associate biology professor said this year, the produce was a necessity.
"The vegetable products were more in demand," Kay said. "The economy is suffering and food prices are going up."
Richardson said the garden has become a place where different professors can take their classes to learn about food issues.
"It's a place to talk about agriculture, the food we eat and where it comes from," Richardson said.
Kay oversaw the students as some conducted a research component.
"We manipulated how diverse the plots were," Kay said. "Overlayed on top of that, we had fertilizer treatments that we provided."
Kay explained that the research was done to see if the fertilizer's effects depended on the diversity level of the crops.
Senior Quinn Wrenholt said working in the garden is beneficial.
"A lot of it is learning about a connection with nature," Wrenholt said. "The empowering emotions like growing your own food or watching a plant from seed to fruit."
Wrenholt said he would like to see more students get involved with the Stewardship Garden in the future.
"We're really trying to engage some of the younger students on campus," Wrenholt said. "We just need people who are going to continue the legacy as a lot of these students who have been working on it are graduating."
Wrenholt said he hopes that younger students will not only see the opportunity, but realize the importance.
"There's opportunities to do research in the garden, there's opportunities to do research outside the garden and there's a need for this work to be done," Wrenholt said.
Tarkor Zehn can be reached at zehn0241@stthomas.edu.