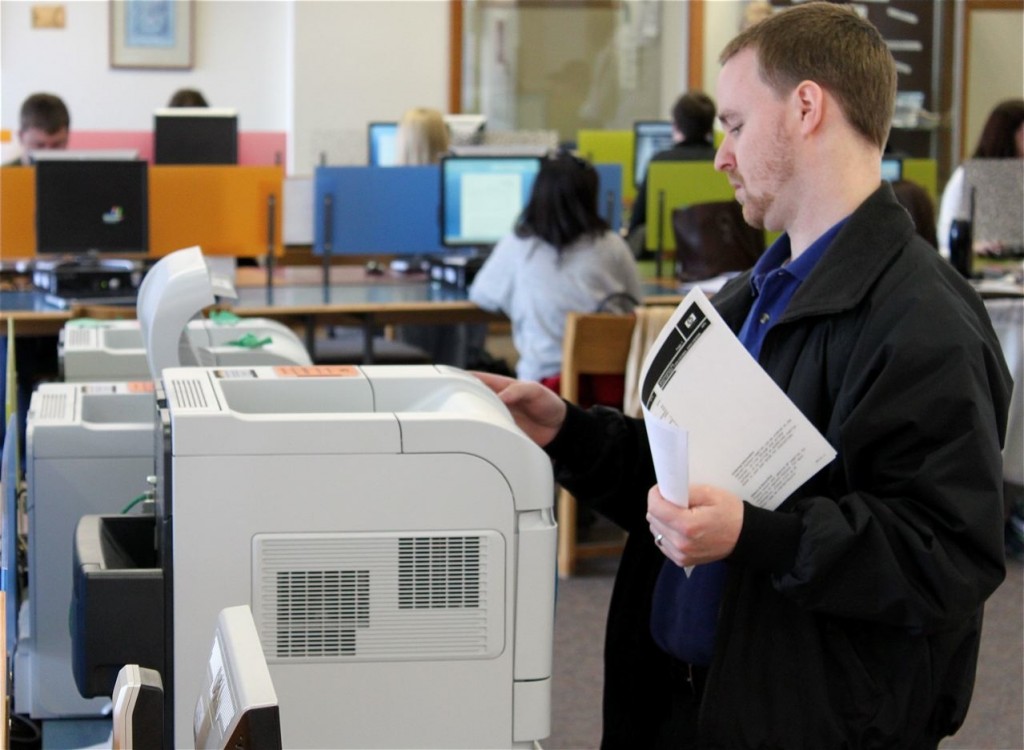 St. Thomas student printing is increasing, said Sam Levy, vice president of Information Resources and Technology.
Levy said one of the main reasons students are having to print more is because faculty members are putting class readings on Blackboard that were once purchased in the bookstore or handed out in class. It is then the students' responsibility to print out those materials, which cuts into their printing quota.
The quota was implemented in 2006, Levy said, and student printing decreased by 50 percent during the next year. Now increased printing is causing some concern, he said. Levy met with the Undergraduate Student Government Sunday to discuss a possible initiative to increase student awareness about printing.
"We would like to work on the initiative to see if we can get everyone more careful about this," Levy said.
He added that St. Thomas has not made a decision on increasing the quota.
"I would say we would not rule out raising the quota," Levy said. "But most students are telling us, and the data confirm, they don't use all their quota now."
Some students said the current 400-page limit isn't high enough. In response to a university survey about printing, 20 percent of students said they didn't like the current printing limit.
"I'm already over this semester," senior Kaylee Gay said. "Four hundred pages for a semester is only 100 pages a class for 14 weeks. I would say double that."
Senior Jimmy Froehle also said the limit is too low.
"I can go through that in a month," he said.
Others don't see a problem with the current quota. Junior Mitch Taffe said last semester was the only time he's come close to going over his limit.
"For the most part, it's enough. It would be nice if we could get [the extra money] back somehow," Taffe said. "But that's usually not how things work around here."
Senior Elina Shampan, who works at the reference desk in the O'Shaughnessy-Frey Library, said she doesn't really hear people complaining.
"It seems like people are satisfied," she said.
Levy said he does not know yet when the printing process will be changed.
Carly Samuelson contributed to this report.
Jordan Osterman can be reached at jrosterman@stthomas.edu.