Last week junior justice and peace studies major Felicia Beltran traveled to Washington, D.C., to meet with Jeff Lomonaco, a foreign policy adviser for Sen. Al Franken, to speak about current social issues, like crop fumigation, in Colombia.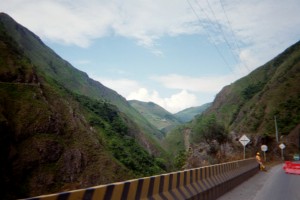 Beltran was acting as a delegate for Witness for Peace (WFP), a nonviolence, social advocacy group that she was inspired to join after researching it for a class.
Beltran and her co-delegates each chose one topic to discuss with various representatives, including violence, free trade agreements, indigenous communities and others.
"The information was appreciated, but overall the meetings were discouraging and pointless because the Colombia (free trade agreement) has already been passed and will be implemented on May 15," Beltran said.
The group also met with U.S. Rep. David Price (D-N.C.), the U.S. State Department and two human rights organizations based in Washington, D.C.
Beltran traveled to Colombia for a 10-day trip over January Term with WFP.
"It (World for Peace) is not really related to policy, it's more that we need to change policy," Beltran said. "But it's not like we have suggestions; it is more like personal experience."
St. Thomas foreign policy professor Arijit Mazumdar said the primary conflict in Colombia is the armed insurgency in the countryside. The insurgency in Colombia began in the mid-1960s between the government and the Revolutionary Armed Forces of Colombia (FARC), a militant group that seeks to overthrow the system in practice.
There have been efforts to craft a cease fire between the government and FARC, but no lasting peace has come of these efforts, Mazumdar said.
"A lot of the aid we (the U.S.) send to Colombia goes to the military. They might have done some readjusting and put more toward education, but it is just still way too much that goes toward the military, and it is not doing anything," Beltran said.
The U.S. has aided Colombia since the '60s in its war against the FARC—which is funded by the sale of cocaine, Mazumdar said.
Even though large parts of Colombia do not operate with rule of law, emergency laws are often necessary. Mazumdar said the country is seeing progress.
"There has been improvement in the last five years that is directly related to the fact the security situation has improved," Mazumdar said.
Beltran met with U.S. Embassy officials in Colombia but believed the embassy official she met with had no idea what she was talking about when she tried to explain the social issues.
"When we told them, they were just like, 'No, that's not true,' and we were just like, 'How is that not true? We talked to these people; are they making it up?'" Beltran said.
Mazumdar said there is a "general air of expectancy that has not existed for a long time" for current Colombian president Juan Santos, who was elected in 2010.
"Colombia has made a lot of progress toward security and economic growth. We still have to see if the current administration can take it forward," Mazumdar said.
Patrick Roche can be reached at roch6667@stthomas.edu.