Mopping sweaty floors and cleaning up after crowded yoga classes may not sound glamorous to many, but senior Stephanie Possehl said it's not the work, but CorePower Yoga Studios' incentive that motivates her.
Through CorePower's "work for trade" agreement, the workers are required to attend one two-hour shift per week, and they receive free unlimited yoga in return.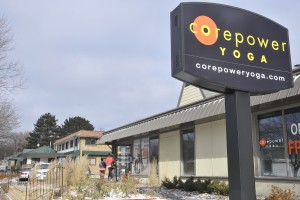 "I did a few yoga classes and fell in love right away," Possehl said. "I wanted to do it, but it's a big financial commitment to go to yoga all the time and get a membership. So, that was a great way for me to continue practicing and still being able to afford it."
Lauren Hopps, Highland Park CorePower studio manager, said she thinks the program is advantageous for both the workers in the program and the studio.
"'Work for trade' is kind of like a scholarship program for people who can't afford a membership," Hopps said.
CorePower has daily shifts from 6 a.m. to 9 p.m. with two workers on each shift. Hopps said there are between 80 and 90 people in the program, and they aren't all students. The range of people involved varies from those with full-time jobs to stay-at-home parents.
Hopps realizes that not everyone can afford to purchase a membership, but said she still wants people to be able to take the classes.
"We offer it to make CorePower more accessible for everyone," Hopps said.
Junior Lauren Bachmeier said she used to be a part of the "work for trade" agreement because after being a member at the studio for over a year, it was starting to drain her bank account.
"Being able to clean for two hours once a week was a great deal," Bachmeier said. "It was kind of gross cleaning up, especially since my main job was to clean the bathrooms. When I switched shifts I had to clean the Ryder bikes which wasn't bad at all. This shift also included cleaning the mats. Sometimes they were soaking wet, smelly ones, which was terrible."
All of the CorePower studios in the metro area use the "work for trade" program. The Highland Park location has offered the program since its opening in 2005.
Hopps said there are two criteria to "work for trade" at the Highland Park location.
"People who want to be apart of the program at Highland Park must have practiced at CorePower for roughly a month and have an availability that matches the shifts available," Hopps said.
Both Possehl and Hopps advised students to try the free week CorePower offers before applying for "work for trade."
Although anyone can be accepted into the program, Hopps said they like hiring students.
"Students who will be living on campus for the entire year are more desirable," Hopps said.
Stephanie Dodd can be reached at dodd0474@stthomas.edu.