Students now have the ability to trade, buy and sell textbooks with BookStoreTimes, an online application created by St. Thomas students.
Graduate student Suliman Alfallaj said he designed BookStoreTimes because he wanted to see more inventions on campus, and he decided to take action by developing a long-term project.
"We want to create something for our future. We want something for reward," Alfallaj said. "We want to challenge Harvard, MIT and Stanford students. We didn't want to just use their projects."
Alfallaj worked with graduate student Peter Beacom on this as a class project in professor Bradley Rubin's software analysis and design course.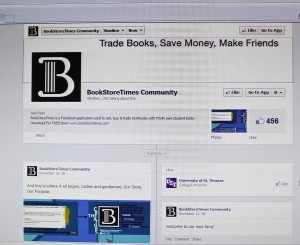 Rubin said the project focused around the course's key concepts of object-oriented design and development.
"The class project was pretty open-ended," Rubin said. "It involves coming up with a problem, looking at it from a customer perspective, and then drilling down to actually build it."
Rubin said he thought BookStoreTimes was a good idea since Beacom already has applicable experience, including running a self-owned software business.
"It had some good marketing background, so it was fun to see them work together on this," Rubin said.
Alfallaj also wanted to build something that added value for students. He said students only have two options for selling textbooks: the bookstore or online. Alfallaj said the problem with selling to the bookstore is that it won't buy the book back near its original cost. He said the problem with selling on the Internet is that people aren't always trustworthy.
"This is a gap. We missed the gap, so we need to fill this gap with BookStoreTimes," Alfallaj said.
After finishing the project last spring, Alfallaj approached the St. Thomas bookstore to assure that BookStoreTimes was not a competitor. Junior Gina Vo, senior Muhdi Sharif and senior Ahmed Aldhafeeri and adviser John Stout, St. Thomas professor of law are part of the team.
"I didn't want BookStoreTimes to represent me," Alfallaj said. "I wanted it to represent all St. Thomas students."
The service is already available online at (link) www.BookStoreTimes.com. When students use the application, it will automatically recognize the network they belong to.
"So, say you go to St. Thomas here. It automatically recognizes the University of St. Thomas," Sharif said. "It gives you access to everything posted on that network. It's made easy."
Students can also talk, negotiate and send private messages through the application, Sharif said.
The application is free, so incentive for the creators is making success synonymous with St. Thomas.
"St. Thomas' reputation is the profit we are looking for," Aldhafeeri said.
Their marketing campaign has been mostly word of mouth, posts on Facebook and Twitter, and presentations to classes. On Nov. 11, the BookStoreTimes Facebook community page had 15 "likes," and by Monday, the page had more than 450 "likes."
"It's been catching on," Sharif said. "It hasn't been a full-fledged marketing attack. It's been giving people information."
The team said it strongly believes that BookStoreTimes will take off, but agreed that it needs a base for it to have value.
"That's why we need to encourage them to like the page, get the app, and add value to St. Thomas," Sharif said. "Help others help you, that's our motto."
Rubin said it is unclear how far the project will go.
"The whole textbook environment is in flux especially with paper textbooks versus online textbooks," Rubin said.
The BookStoreTimes team has strategies for the e-books challenge, but its next step is to further develop a system of trading, buying, and selling textbooks.
"We have a lot of ideas for the future. We want students to first see BookStoreTimes," Alfallaj said. "If you like it, use it."
Bjorn Saterbak can be reached at sate3878@stthomas.edu.