St. Thomas students are finding ways to cut back on driving as gas prices keep escalating.
The average cost per gallon in Minnesota Wednesday morning was $3.44. Gas prices jumped during the weekend to a new nationwide average of $3.37 a gallon. That's 26.7 cents a gallon more than a month ago and 66.4 cents more than the same time last year.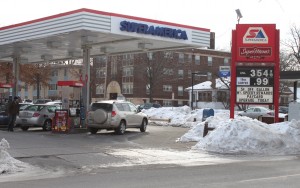 "I am taking the city bus more now," freshman Maribel Crispin said. "Otherwise I try to carpool more."
Junior Nick Lunneborg said he is trying to cut back on driving.
"I work in Minneapolis so I take the shuttle more often now," he said. "I drive a gas-guzzler, so I'm taking a particularly hard hit."
Commuter students, including junior Lucas Van, are affected by high gas prices as well.
"I'm a commuter student going to three ACTC schools," Van said. "So now I'm staying at one school instead of driving other places to use their facilities."
Junior Rachel Carlson said she would start driving significantly less if gas prices go above $4 a gallon.
"I'm a commuter student so it does affect the cost of getting to class every week," Carlson said.
Sophomore Jenny Johnson, who is from Spooner, Wis., said she would go home less if gas prices hit $4.
High gas price effects
If gas prices rise to $3.75 a gallon and stay there for a year, it could mitigate the benefit of the Social Security tax cut, according to economists. The economy would still grow, but it wouldn't get a boost from people spending more on goods and services. And if gasoline prices went as high as $5 a gallon, spending cuts by consumers and businesses could push the economy into another recession, analysts said.
According to Federal Reserve Chairman Ben Bernanke, political upheaval in the Middle East is causing oil and gasoline prices to march higher. Last week's rebellion in Libya virtually halted oil shipments from the country. Analysts said oil prices should slide as the situation in Libya stabilizes.
Motorists are not the only ones affected. According to KARE 11, airlines are raising fares because of increased fuel costs. Experts said the airlines are hiking fares at their fastest pace in two years, and domestic fares are up 12 percent compared to this time last year. There have been four fare hikes in 2011 and there were three in 2010.
As students start purchasing tickets for spring break, several said they have noticed the increased fares. Sophomore Jonathan Nelson noticed higher ticket prices while searching for a ticket home to Chicago for spring break.
"I always fly Southwest, and it's usually around $73, but when I bought it this year I think it was $89," Nelson said.
Junior Stefano Consiglio also noticed the increase in price.
"I bought [tickets] a long time ago but the effect was already felt," he said. "They were up a good 10 percent when I bought them and they're even more now."
Tom Graves can be reached at grav5886@stthomas.edu.