After its launch during the Republican National Convention, MTV's Fantasy Election 2012 announced President Barack Obama will take questions from young voters in a live, half-hour special on Friday.
Viewers can submit questions for the President on MTV's Facebook page. Some big issues young voters anticipate hearing Obama address include rising student loan debt, the cost of college and jobs.
Sophomore Sam Temple is an avid participator in the election fantasy game and said since he started playing he has been more informed about these key issues.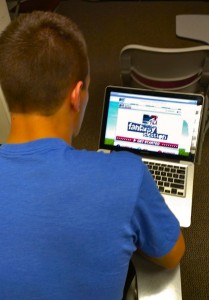 "When young Americans see a free game they can participate in with the chance of winning prizes, it will be very popular," Temple said. "The game forces you to be informed about the election, resulting in a better understanding of politics from young Americans."
Fantasy Election 2012 gives users the opportunity to compete in an interactive game similar to fantasy football. Users draft a team of presidential and congressional candidates and compete against other users.
Players receive points based on how their candidates behave in the real world and on the election trail. There are also bonus points awarded by participating in extra activities regarding the election, such as reading campaign news or watching the presidential debates.
While playing the game, users gain knowledge about the upcoming election and have a chance to win over 3,000 different prizes, including a $25,000 grand prize.
MTV said there will be 45 million 18-29-year-olds eligible to vote this election.
With such a large number of young voters this election, MTV's election game is new for these voters to become informed about the election. Senior Robbie Sikich said he thinks the game is a great way for young Americans to get involved in the election.
"MTV's fantasy election is an easy, yet very engaging game for young Americans," Sikich said. "It provides users with valuable information about the election and the cash prizes are a bonus."
Political science professor Renee Buhr said she believes this game will have a positive effect on young voters in the upcoming election.
"There's a rational ignorance about politics," Buhr said. "A game like this gives people a reason to pay attention to politics."
Kyle Jonas can be reached at jona7984@stthomas.edu.