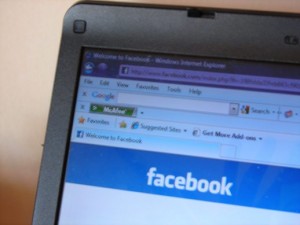 Concerns about online privacy have risen as Facebook plans to extend its reach to other websites.
The social networking website is planning to install new tools called "social plug-ins" on the website, which would enable users to share their product interests with their Facebook friends.
For example, a Facebook user might visit a website and recommend a movie via Facebook. Depending on the individual's privacy settings, this information may be passed along to other users in the network. These plug-ins will also allow third party marketers and websites use a Facebook user's activity information to target the user for personalized ads.
"I've noticed that they suggest brands," junior Kim Laughlin said. "I'm a marketing major, so I kind of understand that it's a great way for marketers to get their brands out there. So I get that standpoint. I guess I don't really have a problem with it unless they're taking really personal stuff."
Facebook said the the new plug-ins are meant to help personalize the web for people. The websites using the plug-in do not receive any personal information from this new update, but it does mean that information that hadn't previously been communicated could be broadcast to your Facebook contacts.
"It's kind of creepy, but it doesn't really bother me," junior Katie Gallagher said. "Make sure your security settings are set, especially because they keep changing the security settings so you think it's set, and then you go check and it's not anymore."
Facebook users who do not want to be part of this update have to go through their privacy settings and change their preferences to keep this information private.
"It's clever marketing, that's for sure," freshman Lauren Crawford said. "I guess it depends on how they use it. You do have the power to not put stuff on Facebook, so it's sort of your fault in one aspect."
If Facebook succeeds with this new plan, it could change the face of social networking. It would expand the communication from one closed website, allowing users to interact with one another over the entire web. This increase in what can be shared could spark more customized websites, which look different depending on the friend's preferences and privacy settings.
"I think it's to be expected," junior Elina Schampan said. "I mean, we get Facebook for free; they're obviously going to want something out of it too and making money out of it that way. I think I'm more concerned with information getting to future employers or prospective employers. That's what concerns me more than them making money off of my Facebook."
Brian Matthews contributed to this report.
Rebecca Omastiak can be reached at omas5009@stthomas.edu.