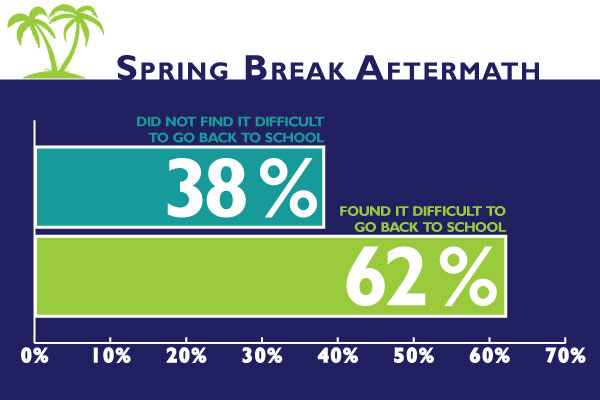 If you're having trouble getting back into the swing of things after a fun-filled spring break, you're not the only one.
Thirty-one out of 50 St. Thomas students surveyed agreed that it was difficult to return to classes and get back into the school routine after spring break. Though most students said that they don't think their grades will be affected by the weeklong break, some said they find it difficult to concentrate when returning to classes.
Junior Allie Koram, who traveled to Spain and Morocco to visit friends, agreed that it is difficult to get back into a routine and said the pile of homework waiting for her after break was stressful.
"The weather here is pretty nice, so that's good. But the homework load… it's overwhelming," Koram said.
Koram is not the only one who feels this way. Students often find that the homework load seems to pile up after spring break, and it becomes more difficult to stay motivated and interested in classes.
However, Arijit Mazumdar, assistant political science professor, said he did not see a noticeable change in students' motivation or interest after spring break ended.
"There's always some kind of distraction with regard to student performance, but there's nothing I can complain about," Mazumdar said. "The first day is the toughest, but as the week progresses, things begin to fall into place."
Cara Anthony, assistant theology professor, agreed.
"This year it's so far, so good. It is true that after spring break, there can be a little bit of school fatigue. But everybody feels it, not just students," Anthony explained.
Even students who chose to spend their break on campus or at home said they feel the stress of returning to school.
Junior Nick Chang stayed on campus during break and worked as a Ireland Hall resident advisor. Chang said that he feels somewhat rested but wishes the break was longer.
"The campus was quiet; there was no one else here. I feel like I got a better start on homework," Chang said.
Senior Sameer Adam spent his spring break visiting graduate schools in Atlanta. Though he feels prepared for his classes, he said he also felt that the break was a little too short.
"Spring break went by really quickly. The nature of my trip was academic, so I don't feel like I strayed too far from what I need to be doing, " Adam said.
Anthony said it is likely that the upcoming Easter break helps keep students focused.
"We have this little short sprint between spring break and Easter. I think students have a little more energy knowing that we have another break coming soon," she said.
Koram said that it is important to remember that there are still about eight weeks left of classes after break.
"It's helpful to think that summer's almost here and classes are almost over for the year," she said.
Although students may be fatigued after the break, Mazumdar and Anthony agree that they will have no problems bouncing back.
"St. Thomas students are pretty determined and pretty hard-working overall. Even though people are tired, they pull it together for their assignments," Anthony said.
Amanda Ogbuehi can be reached at ogbu0322@stthomas.edu.
Graphic created by Katie Souba.