Signs appeared across campus last week that Volunteers in Service Internationally or Nationally, a campus mission and service program, would extend its January term application deadline.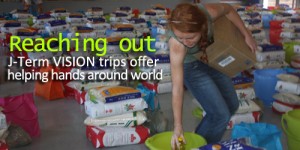 VISION Director Jacob Cunningham said the deadline was extended to 11:59 p.m. Friday, Oct. 21, because the program doesn't have enough people signed up.
"We didn't get the number we wanted to fill our trips," Cunningham said. "This year we are offering more trips than in years past, so we have more spots available."
Cunningham attributes a decline in this year's applicants to the current economy.
"There is less money to do things that don't count towards your degree," Cunningham said.
Freshman Kate Kollmann said this is what's holding her back.
"If I was going on a J-term trip and paying that money, I would want to make sure I got a class (credit) for it," Kollmann said. "That is the only drawback for me."
Junior Billy Kor agrees.
"The only thing that really hinders me is the cost," Kor said.
However, senior Craig Spooner cites other reasons, "I have thought about going on trips before a bunch of times. It's not like it costs a bunch of money… it just didn't work out for me at the time."
Cunningham said VISION meets the Business 200 requirements for some students, as well as independent study. However, most students do not receive credit for VISION trips.
VISION Student Director, senior Laura Hart said VISION's six components of service; simplicity, justice, spirituality, community and cultural exchange; make the program more than just a service immersion trip for academic credit.
"VISION expands our view about the world," Hart said. "It's the idea of living in solidarity with community and with each other and bringing that back to St.Thomas."
Senior Craig Spooner said he has heard VISION trips are amazing.
"People I know that have gone on trips have all come back and said, 'Wow, a life-changing experience,'" Spooner said.
VISION has been a St. Thomas program for the past 25 years. The 2012 J-term trips include Costa Rica, Venezuela, Guatemala, New Orleans, Texas, California, India and Laos.
Patrick Roche can be reached at roch6667@stthomas.edu.