St. Thomas students in environmental studies, biology and geography classes are getting a first-hand lesson in forest restoration.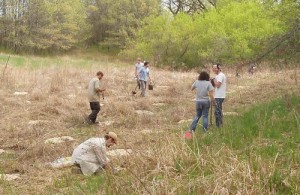 In partnership with Great River Greening, a local, nonprofit environmental group, students will restore 10 acres of oak forest in the Fish Creek Natural Areas Greenway, located 20 minutes from the St. Paul campus in Maplewood, Minn.
Geography professor Paul Lorah and biology professors Simon Emms and Tim Lewis began the project with St. Thomas 2011 graduate Theresa Wondra.
"I am most excited about how this project is an opportunity for St. Thomas students to get out in the field and apply what they are learning in the classroom," Wondra said.
On April 17, 15 student volunteers planted 350 trees and plan to plant hundreds more by fall.
The group hopes to effectively restore the Fish Creek habitat and promote St. Thomas' pledge to be carbon neutral by 2035.
"The basic idea here is there's things you do to put pollution into the air—we burn fossil fuels and that releases carbon dioxide," Lorah said. "But there's also things you can do to take it out of the air and planting trees is one of them."
The project is funded by a $15,000 grant from the Campus Sustainability Fund, which will be used to plant 15,000 trees at the Fish Creek site.
Fish Creek was most recently privately owned farmland and oak savanna. Many of the trees had been cut down and logged before St. Thomas students reached the site. The city of Maplewood and Ramsey County now have ownership of the land, and the county recently decided to restore the land back to its natural habitat.
The county contracted some of the restoration work to Great River Greening, which relies on volunteers to help restore the landscape.
Wondra said she became involved with the project after Lorah inquired about her internship with Great River Greening.
The pair then developed a project that would involve taking students, professors and any other interested environmentalists to the site to help with the recovery.
"I learn the most from hands-on experiences and think this project will be a fun way to study outside of the classroom. Along with being a great learning opportunity, it's important to me because it also raises awareness on UST's campus sustainability initiatives," Wondra said.
Lorah explained that once finished, the site will function as a lab where students can track changes in water quality and measure how much carbon the trees actually store.
"We're going to do some science that says, 'Here's what the place is like before we make any changes—not as much topsoil as you'd like, there's not much carbon stored,'" Lorah said. "Then we're going to plant trees, and environmental science, environmental studies, biology, chemistry and geology students are going to go back to that site year after year… and watch it recover."
"With trees, you can convert their height and stem dimensions into some kind of carbon equivalent, knowing that most of the hard parts of the tree are cellulose lignin, which is largely carbon," Emms further explained.
Emms said that in the fall, multiple classes are lined up to do service-learning projects, which will involve planting trees and learning about why forest restoration is important for the environment.
"It's a place where we can get students actively involved in restoration. There's so much bad news for the environment, but this is just a good thing for students to get involved with, to see them make the progress," Lorah said.
Wondra said that for students, the project is a chance to do their part to restore the environment and learn more about how their everyday actions affect nature.
"It gives students a chance to get outside, get their hands a little dirty, enjoy the fresh air and experience our Minnesota landscape," Wondra said.
Amanda Ogbuehi can be reached at ogbu0322@stthomas.edu.