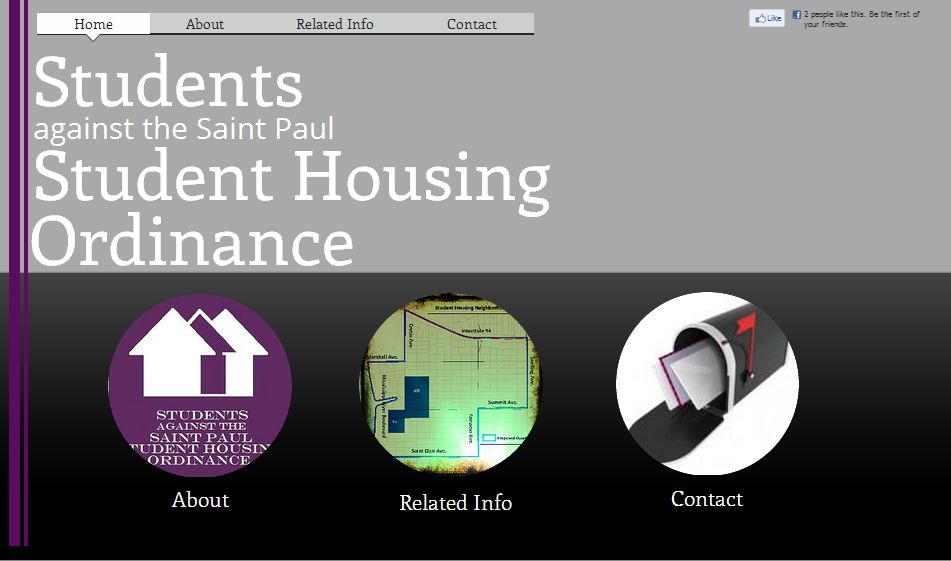 With the new housing ordinance officially set in the St. Thomas neighborhood, students have begun brainstorming ways to oppose the new law, including the creation of a Facebook group.
The ordinance, which took effect on Wednesday, Aug. 8, requires 150 feet between student housing rentals. Submitted by city council member Russ Stark, the new law was passed on a 5-2 vote as the council responded to neighborhood concerns about the number of students living off campus.
However, some students believe that the ordinance will only cause more problems.
Juniors Lizzi DelMain and Andrew Hasek are leading the charge with a new online campaign opposing the ordinance.
"I view St. Thomas as a family and community, and right now somebody is pushing my family around," DelMain said.
DelMain and Hasek started a Facebook group to brainstorm and rally students. After recently changing the format of the group to a "page" which allows them to be more formal, they hope to grow into a full website in the near future.
Both students believe that the new ordinance will bring an increase in rent as well as competition for housing, which will push students further from campus and into other neighborhoods.
According to Hasek, the ordinance doesn't really benefit anyone.
"This is just a bad deal for everyone: for the university, students, landlords and even homeowners," Hasek said.
Both DelMain and Hasek said what disturbed them the most was neighbors saying that the university and students were not "family friendly." Hasek explained that the university has sponsored community building events where neighbors can come meet with students, but they have seen little attendance from neighbors.
In terms of fighting the ordinance, DelMain and Hasek say putting unnecessary pressure on neighbors and the city such as lawsuits or signing non-disclosure forms through the Family Educational Rights and Privacy Act is not the right idea.
"We want to use persuasion on the neighbors to show that we can come to agreements with students," Hasek said.
Junior Rachel Wright, who saw the Facebook group, agrees that the real solution lies somewhere else.
"Students aren't going anywhere, but neither are the neighbors, so there can't be a quick fix," Wright said. "I think that (the ordinance) won't fix any problems, and in fact, may just create more."
DelMain expects a "very long and very difficult struggle" in fighting the ordinance, but believes students' efforts won't go unnoticed.
"We don't have public opinion on our side … but this affects every student and every university that the city believes is getting too big, because if it can happen to us, it can happen to them," DelMain said.
Alex Goering can be reached at goer8777@stthomas.edu.