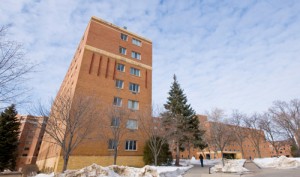 The clinking and clanking of construction at St. Thomas will continue through the summer, aside from the completion of the Anderson Athletic and Recreation Complex and the start of the Anderson Student Center.
Every year, each St. Thomas department proposes new projects it feel deserves attention in its area, including building expansions, renovations or upgrading old facilities. The university then decides what projects are necessary and benefit students the most.
"The first priority for us is the students and their well-being and safety," said Gerry Anderley, associate vice president of facilities. "Sometimes people forget that students are why we exist, and we exist first of all to serve students."
This summer, the elevators in O'Shaughnessy Educational Center, Aquinas Hall and Dowling Hall will be retrofitted because of state mandates. The elevators will be modernized with new controls and shaft upgrades based on the year they were installed. The project will take 10 to 12 weeks to complete, and because of this, summer classes in O'Shaughnessy Educational Center have been moved from the building for student convenience.
"I think the elevator retrofit is a project that really needs to get done," Anderley said. "It is a project we need to have done in order to stay in compliance with Minnesota elevator code, and it is something that will provide better service to students and the campus community because they will be safer."
Other projects this summer include greenhouse renovations and two new laboratories for the biology department and exterior brick removal and replacement on three floors of Brady Hall. These projects will be taking place simultaneously with the McCarthy Gym renovations on South Campus.
"The renovation of the greenhouse on this campus will serve botany students," Anderley said. "It will benefit the campus because instead of turning students away, who might be interested in biology, this will allow us to now bring in those students because we have the facilities."
These projects will be financed by gifts and bonds sold by the university. The associated interest and operating expenses will be covered by gifts and will not impact tuition for the 2010-2011 school year. The projects that do not get funded during their proposed year go through the selection process again the following year.
"If you keep the tuition low, that means you'll have fewer dollars to do some of the critical kinds of things," Anderley said. "In other words, there will be more competing needs for fewer and fewer dollars."
For some students, such as sophomore biology major Liz McHale, they do not see a problem in St. Thomas' facilities but are optimistic about the changes.
"I don't know if we honestly lack anything here," McHale said. "Anything being remodeled is good, and I think the facilities aren't bad now, but anything new is good and really cool."
For other students, such as freshman Brady Hall resident Joe Mueller, they can see why time is being taken this summer to do repairs to improve the school.
"I am so glad they are fixing the brick on Brady Hall because it is a great building and should be kept in tip-top shape," Mueller said. "This shows that St. Thomas is responsive to its students, and they are always ahead of the game in repairing things before they actually need to be."
All repairs are set to begin May 24, which is the Monday following graduation.
Ashley Stewart can be reached at stew1177@stthomas.edu.