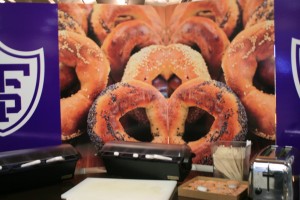 Starting Monday, Oct. 8, Anderson Student Center's Summit Marketplace will be adding a bagel bar complete with an assortment of fresh bagels and a variety of spreads delivered daily from a local bakery.
Senior J.T. Schuweiler, Summit Marketplace's student manager, came up with the idea and proposed it to his boss, Gayle Lamb, dining services operations manager.
"I had a vacant space, and I also realized that we also don't have any sort of bagel situation," Schuweiler said.
The bagels will be delivered fresh every day from St. Paul Bagelry & Deli in Roseville, Minn. Lamb said they aren't like the bagels you get at T's Restaurant on-campus.
"It's a true New York Bagel," Lamb said. "We're ordering specialty cream cheeses from (St. Paul Bagelry & Deli) also."
The new bagel bar will be open Monday through Friday from 7 a.m. to 11 a.m. and will also feature scones and brownie bars.
Lamb said she was very impressed after the taste testing.
"The scones are fairly large, but their flavor is so good; very flaky like a good scone should be," Lamb said.
Schuweiler and Lamb have been developing this project for the past month and said it didn't take too much to get it going.
"Our investment in it is pretty minimal, just mainly the signage," Lamb said.
Schuweiler said transporting the bagels to campus every morning is also very reasonable.
"The delivery cost is $2 everyday," Schuweiler said.
The bagels will cost $1.50 and the cream cheese will be $0.80. Both will be available for purchase via flex dollars, eXpress, cash and credit card.
The variety of spreads will include: garden, veggie, plain, strawberry, triple berry, garlic herb and honey walnut. Schuweiler said the bagel options will even include some festive options.
"They have seasonal bagels available, so there will be a Christmas style bagel," Schuweiler said.
Senior Rob White is looking forward to this new addition.
"I actually used to work at Panera Bread and I'm quite the bagel connoisseur, so this new bagel bar is actually quite appealing to me," White said.
Junior Ashley Soppe said the bagel bar will be quick in the morning when she's on the go.
"Instead of grabbing a granola bar, I'll just grab a bagel," Soppe said.
Tarkor Zehn can be reached at zehn0241@stthomas.edu.