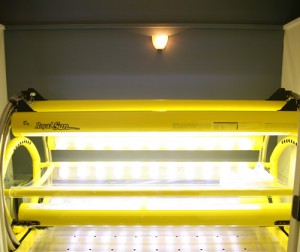 Tommies may pay more to be tan this year.
As part of the recently passed health care bill, a new tanning tax will put a 10 percent sales tax on the service, meaning it'll take a little more green to get that desired bronze.
The new sales tax goes into effect June 1. The tax applies to tanning beds, stand-up tanning booths and sun lamps, but tanning lotions and spray-tan services will not see an increase in tax.
The tax is directed at tanning salon owners who will likely have to pass the cost on to clients, but that's something St. Thomas senior and Year Round Brown Vice President ZachNeugebauer doesn't want to do.
Neugebauer has seven tanning salons in South Dakota. He started playing a role in the 30 year-old family business as a freshman in college and prompted a complete remodel of the salons and of the company's overall image.
"My vision was always give your customers that five-star experience, that Four Seasons Hotel experience but give that to them at a value price," Neugebauer said.
But with the tanning tax, giving customers value will be hader than ever. Neugebauer said he doesn't want to increase prices to compensate for the new tax, but said he will have to see what the next six months to a year will bring. He said by increasing sales or the price of products, the company may be able to lighten the burden.
But no matter what it does, Neugebauer understands that with clientele in their teens and twenties, his business will likely take a hit.
The new tax was originally meant to be a 5 percent sales tax on Botox and other elective cosmetic procedures, but was changed to a tanning tax after forceful lobbying by the plastic surgery industry and Botox manufacturers.
Senior Tiffany Bloomquist said the increased price will change the habits of some tanners, but it won't get them to leave tanning altogether.
"I think if they tan often and they tan on a regular basis, more than just a few times a week, especially like in the summer, then they're going to go no matter what," Bloomquist said.
Bloomquist is already locked in to her year-round tanning package and said she likely will not see a price increase after June 1.
"I think it may have a consequence as maybe more people will start to learn about tanning and what kind of tanning is bad tanning and what kind of tanning is OK," Bloomquist said. "They'll start to educate themselves more about how tanning is affecting them."
The economic situation
The proposed tax on Botox was expected to raise $5 billion in 10 years, while the tanning tax is only expected to bring in about half of that, $2.7 billion in the next decade.
"[The tanning tax] is very questionable, even if you're for or against tanning just on an economic standpoint," Neugebauer said. "The numbers are not quite the same, but in politics that's kind of the way it goes."
However the numbers add up, Neugebauer said the tax isn't fair for small business owners, especially when on Capitol Hill, the tanning industry is the underdog.
"It's tough to get a bunch of 'mom and pop' shops all across the country together, raise the finances, the money and lobby," Neugebauer said. "And so the medical association with their big companies and they have all kinds of dollars, they can lobby all day long, it's very tough for us."
Ashley Bolkcom can be reached at awbolkcom@stthomas.edu.