One of The Loft's major draws is its promise of Starbucks coffee, but the St. Thomas venue does not make its drinks like traditional Starbucks stores.
The Loft invested in a machine that measures, grinds and mixes the brews automatically. Baristas are still officially trained by the corporate coffee giant to create concoctions, but some students believe the machine makes drinks that consistently taste the same.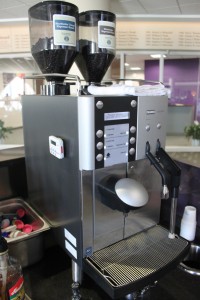 The Loft's supervisor Stephanie Starr-Manley said the technology is high-end machinery that only the newest Starbucks locations use. Not only is the mechanism supposed to make orders more efficiently, but she said it also reduces waste.
"Everything is more automated. It makes sure everything is done properly," Starr-Manley said. "All of the milk is steamed to the proper temperature and we have less waste in coffee beans, which helps the costs."
Starr-Manley said she is unaware of how much the appliance costed, but said students have had positive responses.
"Students have given us good feedback," Starr-Manley said. "We waited (to survey customers) until March so that students had the opportunity to try a variety of drinks since our opening in January, and we received mostly good reviews."
Some students, such as junior Sue Yang, did not realize how consistent the taste of her coffee has been since she started visiting The Loft until the new machine came.
"It tastes like regular coffee…but so far it's been really good and I've had no complaints," Yang said. "Usually when I go to coffee shops, it tastes too bitter. I really prefer the tastes of this coffee to others."
Others students like freshmen Haley Snow and Tyana Sophy have noticed the consistency, but both students said they think the coffee is repeatedly blasé.
"I visit (The Loft) maybe once a week," Snow said. "Their smoothies are great, but I've gotten a frappachino here before, and it tasted really bland."
"I got a coffee (at The Loft) once, but I didn't like it," Sophy said. "I got my regular drink, and it didn't taste sweet enough…I think it was because the machine made it instead of a barista."
Sophy agreed and said, if she was looking to buy Starbucks brand coffee on campus, she would much rather go to other sources, such as Beaker's.
"When I go to Beaker's, I notice that they hand-grind a lot of their coffee beforehand and have it ready to go when I order; I think that makes a big difference in my drink," Sophy said.
Freshman Kirby Parsons said he is not much of a coffee drinker, but he has been impressed with the quality of The Loft's other products and would consider drinking coffee after learning about the machine's capabilities.
"I think that's a good idea," Parsons said. "You don't have to risk being a buyer and getting one really good coffee or smoothie and having a bad drink the next time."
Anastasia Straley can be reached at stra0669@stthomas.edu.