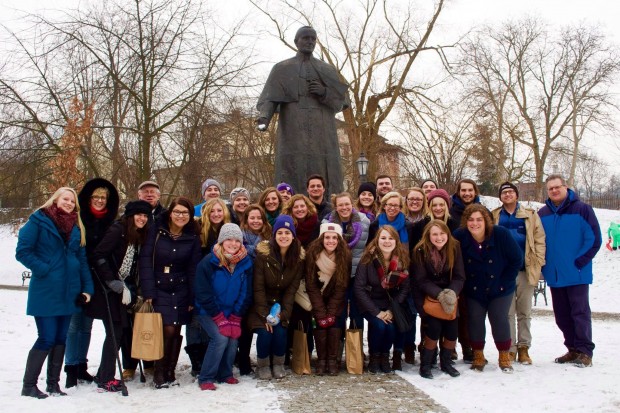 Theology students from St. Thomas and other private universities attracted local and national media attention while studying St. John Paul II abroad in Poland this past January Term.
The course "Pope John Paul II in his Polish Context," was designed ten years ago and focuses on the upbringing and culture of the Polish pope. Theology professor Paul Wojda said the Polish media were intrigued that 26 American students traveled so far to study the famous figure.
The group was approached nearly every day with interview requests, according to Wojda.
"As we were leaving Lublin, some of the same camera crews came to film us getting on our bus and leaving to go to Warsaw, and they even stayed with us on the bus," Wojda said.
Wodja thought part of the media attention came from the preparations for World Youth Day, which John Paul started as a way to bring the world's youth together for prayer. It and other events will be hosted in Krakow, Poland in July.
"The media machine over there is gearing up — there is going to be well over a million people descending upon this country for World Youth Day," Wojda said. "We in some ways are a part of that story."
While the interviewers were many, including TV-Poland and the Archdiocesan media outlet, Wojda said they would ask variations of the same questions, like why John Paul was important to them and what they thought of Lublin and Poland in general.
"It was – in the eyes of our hosts – special, important, noteworthy, worthy of media attention," Wojda said. "I think that certainly made me aware, and I think most of our students aware, that we were doing something unique, and I think that was positive."
Junior Carrie Cochran, a student on the trip, knew what they were doing was different, but she didn't realize how big of a deal they were to the city.
"Even though our program director, Anna, said that we were kind of like miniature celebrities there, it didn't really feel like it at the time," Cochran said. "There were only a couple of instances where people would recognize us and actually say something to us."
The media attention was a constant element on the trip and it added to Cochran's understanding of the country.
"For them to know that there are other countries out there and other people out there who value that as well … They really thought (that) was really neat and very special," Cochran said.
Besides formal interviews, Polish media caught some of the group's candid moments on a bus to Warsaw, said senior Jessica Cink.
"We were jamming out to Justin Bieber in the back of this bus, and this recorder is all up in our face recording us dancing, and it was so strange … I think they were fascinated by us because we found the Polish culture and this Polish man to be extraordinary," Cink said. "To take a month of our life, pay all this money to go there and study these things, but that's their ordinary culture; that's what they see every day."
While Cink has had a love for John Paul since high school, she said the trip let her follow in his footsteps.
"Meeting people that were his students, being in his favorite classroom, his walk to school, his hometown – it changed me because it made me remember that this man isn't just some historical figure," Cink said. "He's charismatic, he's interesting, he loves people."
Cink said whether it was the reporters or the common people, she has left with a renewed hope.
"They were so gentle and sweet to us," Cink said. "That's really what I came home with. They showed me so much more than just their history books, but they showed me their hearts, and that changed me forever."
Noura Elmanssy can be reached at elma7206@stthomas.edu.