Solome Tibebu, entrepreneurship major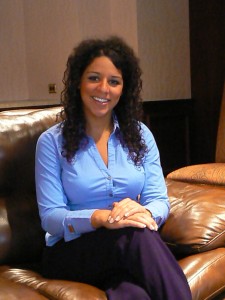 Tibebu is from Eden Prairie, Minn. She has been a Dean's Office desk worker, Linkages mentee, St. Thomas Lectures Committee chairwoman and an apartment coordinator in Morrison Hall. She has also been involved in Multicultural Student Services, Talking Circles and STAR.
Tibebu's achievements include founding Anxiety in Teens and a mental health software application called Cognific, which won first place in the Fowler Business Concept Challenge in 2011. She was also a Minnesota Cup semi-finalist and received the Minnesota Association of Children's Mental Health 2010 Outstanding Service Award. Tibebu has completed two marathons and has been a TED.com speaker.
Tibebu said one interesting fact about herself is that she started Anxiety in Teens when she was "16 years old, after suffering from my own severe anxiety disorder for years and finding no community or refuge, especially for immediate relief online. This is my fifth semester as a Learning Through Service Business 200 Service site, and I currently have 13 amazing interns."
After graduation, Tibebu plans to "commit to Anxiety in Teens and Cognific full time."