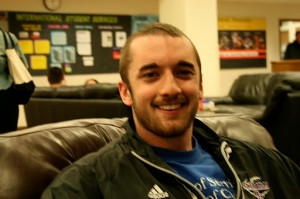 Daniel Carr, political science major, 3.91 GPA
Carr is from Dickinson, N.D. He has been involved in STAND, student government, the Thursday night Catholic men's group, and has played on the football and rugby teams.
Carr has made the Dean's List every semester, is a member of Pi Sigma Alpha Political Science Honors Society and is a member of the National Society of Collegiate Scholars.
Carr said an interesting fact about himself is that "I once met Jack Johnson and Mick Jagger in a pub in London after the two had apparently met after each had played separate shows." As a freshman, Carr wishes he had known that "school is not really as hard as I thought it would be." He said he studied more than he had to and "risked personal sanity."
After graduation, Carr plans to travel to Italy and New Zealand to work in different vineyards. When he returns to the United States, he would like to create his own vineyard.