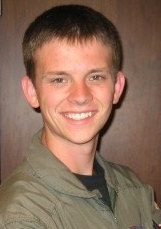 Matthew Deutsch, mechanical engineering major, 3.77 GPA
Deutsch is from Spring Valley, Wis. His activities include Air Force ROTC, fraternity of St. Michael the Archangel, Chamber Singers, cantor at Mass on campus, Christian Leaders Club, Student Spirituality Committee, Junior Class Senator, Black Knights Drill Team, Swing Dance Club, Arnold Air Society, Valor Bible Study, Detachment 410 Choir, Delta Epsilon Sigma and Aquinas Scholars Honors Program.
Deutsch was presented the Superior Performer Award at summer field training before his junior year. "I was ranked in the top 20th percentile of all ROTC cadets around the nation that went to field training that year," he said. He also got the Society of American Military Engineers Award, which is the fifth highest award an ROTC candidate can receive Deutsch said.
Deutsch said an interesting fact about himself is that his favorite thing to do is "to go out swing dancing." As a freshman, Deutsch wish he knew about the "Harry Potter" room in the library. "It is quiet and classy. If I want to be productive, I grab some Coffee Bene and head up there," he said.
On graduation day, Deutsch will commission as a 2nd Lieutenant in the U.S. Air Force. "My tentative assignment is developmental engineering in a munitions testing squadron at Eglin Air Force Base," Deutsch said. He is taking the GRE this spring and wants to go to graduate school after his assignment. "In the long-term, I hope to use my engineering skills to help develop the world's poorest economies," he said.