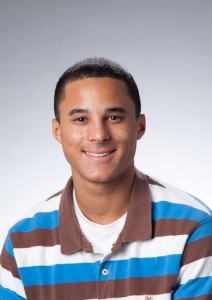 Miles Trump, communication and journalism major, 3.74 GPA
Trump is from Mankato, Minn. He has been involved in Tommie Ambassadors, STAR and Literacy Connections at St. Thomas. Trump is currently the sports editor at TommieMedia.
He was awarded the 2007 Dease Scholarship.
An interesting fact about Trump is that he was "born with a rare medical condition called Laryngeal viral papillomatosis, which affects 4.5 out of every 100,000 children." As a freshman, Trump wishes he had known "that I wanted to be a journalist before I came to St. Thomas. I could be years ahead of where I am now had I got more involved with campus media right away."
After graduation, Trump is looking for a job as a reporter.