Senior Kayden Bui is the first St. Thomas student in seven years to earn the prestigious Boren Scholarship, which will take him to China and Southeast Asia where he hopes to make a difference.
Bui spent a lot of time and effort seeking the $20,000 scholarship, and his reward will be helping with HIV prevention and other health-related issues.
"I'm hoping to acquire fluency in Mandarin Chinese in this upcoming year, in addition to my native fluency in Vietnamese," Bui said, "and my strong medical and biology background to navigate China and Southeast Asia to advocate for pressing issues in higher risk population yet underrepresented areas."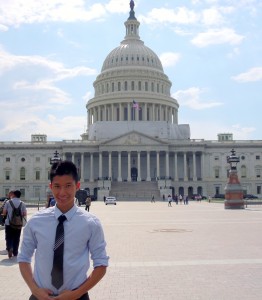 According to borenawards.org, the Boren Scholarship is funded by the National Security Education Program, which focuses on geographic areas, languages and fields of study deemed critical to U.S. national security.
Senior Study Abroad Advisor Timothy Dohmen said that the last St. Thomas Boren Scholarship recipient was in 2005.
"Receiving a prestigious award like this demonstrates that UST students are very capable of excellent scholarships," Dohmen said.
In fact, more than 1,200 students apply for the Boren Scholarship each year, and Bui is one of 150 recipients.
"I never thought this would happen," Bui said.
Typically, it doesn't for most students. Dohmen said that the Boren isn't an easy application to complete.
"Each year we have a handful of students who inquire or express interest in the Boren scholarship award," Dohmen said. "But typically only two or three students actually complete an application."
Bui said that it took a lot of work, but he used resources on campus.
"I worked a lot with a student at the writing center," Bui said. "I worked with her two hours every day for three weeks to complete the essay for the Boren."
After numerous revisions to make the essay right, Bui said it was worth it, especially when he got the good news.
"I was speechless," Bui said. "I looked over the email three or four times to make sure it wasn't a fluke."
He said that earning this prestigious national award helped him realize it's obtainable and should be for other students too.
"A lot of them (students) feel like the word 'national' doesn't apply to them. That's how I felt also because I didn't know anyone who won anything national. But, I went for it anyway."
Hannah Anderson can be reached at ande5385@stthomas.edu.