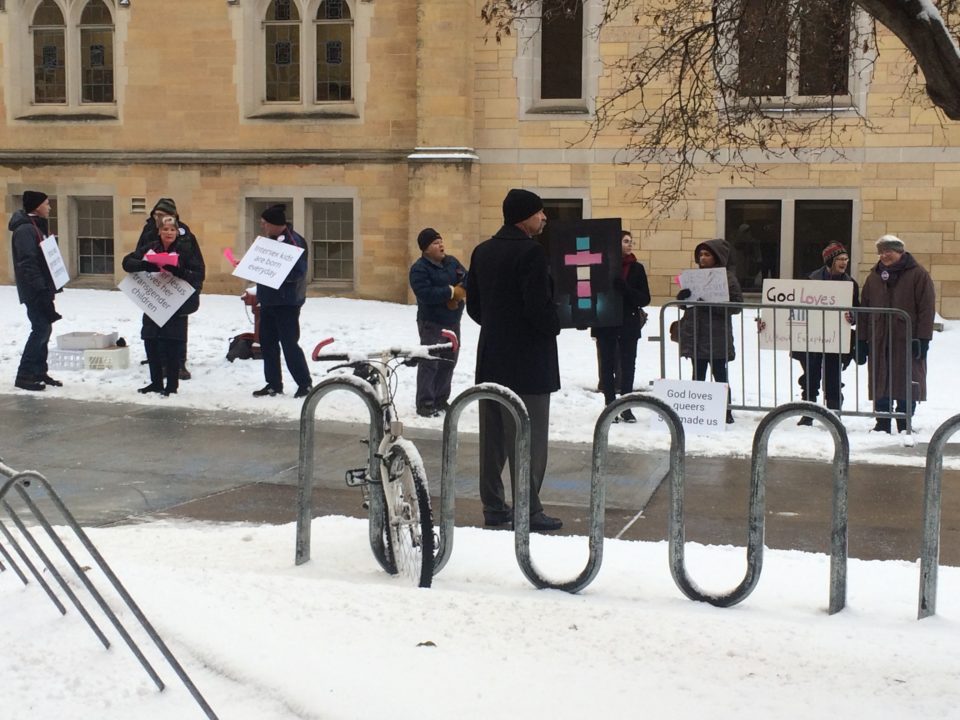 Security was tight as protesters picketed on Monday morning outside the O'Shaughnessy Education Center, where two opposing conferences were being held.
The "Man, Woman and Order of Creation" conference, sponsored by the St. Paul Seminary School of Divinity, began its full day of talks centered on the Catholic understanding of gender at 9 a.m. in the OEC Auditorium.
Down the hall from the conference, the Luann Dummer Center for Women played host to a counter series of speakers for Trans Solidarity Day.
About 10 protesters in support of transgender rights held signs and shouted to the conference attendees as they entered the building. The protesters handed out pink flyers to students as they walked to class.
Student volunteers were stationed at the roped-off entrances to the auditorium lobby to allow in only conference attendees.
St. Thomas Public Relations Director Janet Swiecichowski told TommieMedia that its reporters could not enter the lobby or speak to attendees. The private event required pre-registration.
Both groups are playing host to talks at 7:30 tonight that are open to the public. The Trans Solidarity Day talk will be in Dorsey Commons in the Anderson Student Center, and the School of Divinity's talk will be in the OEC auditorium.
In response to concerns about the conferences, President Julie Sullivan sent an email on Friday to students, faculty and staff.
"(We) uphold the opportunity for all of these events to take place and expect them to be conducted in a positive and respectful manner," Sullivan wrote. "We also unequivocally affirm that everyone in our community, including our transgender faculty, students and staff, are important, vibrant and full members of the St. Thomas community."
Mary Brickner can be reached at bric0029@stthomas.edu
Sophie Carson can be reached at sophia.carson@stthomas.edu.