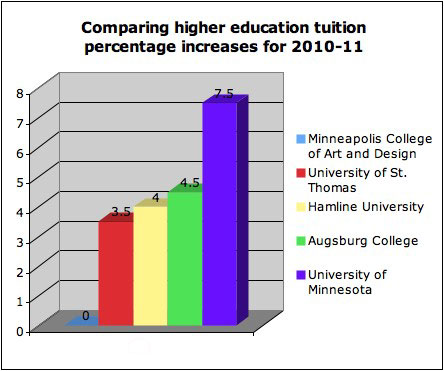 Some students are less concerned about the lowest tuition hike in 16 years than they are with the possibility of larger class sizes to make up for lost tuition dollars.
St. Thomas' Board of Trustees Thursday approved a 3.5 percent increase in undergraduate tuition and fees for next year. University administrators noted class sizes may increase at the same time.
Freshman Rachel Lee relies on scholarships to pay for tuition.
"I don't think it's a good idea," Lee said. "St. Thomas is known for having small class sizes. I enjoy that."
Ahmad Alkhathami, a graduate student who receives a full scholarship through the international student program, is also concerned about the possibility of bigger classes.
"Increasing the number of students, over the average, would in some sorts affect the quality of interacting with the professor," Alkhathami said.
Over the last five years, tuition increases have averaged 6.2 percent a year and there has not been a tuition increase under 4 percent since 1994-95.
Room fees will rise 3.7 percent and board fees will increase 3 percent, bringing the comprehensive fee for next year to $38,813.
But not all students are sweating the increase in tuition.
Sophomore Maggie Bryant lives off campus. The increase does not worry her as much as those living on campus. In addition to some scholarships, her parents pay her tuition.
"It's not really coming of my pocket, more so it's coming out of my parents," Bryant said.
While next year's tuition rates have not been set for all of Minnesota's private colleges, St. Thomas ranked eighth in comprehensive fees among the 17 institutions of the Minnesota Private College Council for the 2009-10 year. Only four MPCC institutions have had lower comprehensive fee increases during the last five years than St. Thomas.
To combat the school's tuition increase, a number of changes will be made in addition to larger class sizes.
St. Thomas' undergraduate financial aid budget will rise 5.6 percent. The financial aid budget has increased an average of 11.9 percent a year in the last five years.
A low tuition increase means cutting costs in other institutional areas.
December commencement has been eliminated and May post-commencement exercises will be downsized.
At least 46 staff positions will be eliminated in the next fiscal year; 27 positions will go by way of early retirement and most custodial work will take place during the day.
Ben Katzner and Shane Kitzman contributed to this report.
Gina Dolski can be reached at grdolski@stthomas.edu