St. Thomas' Board of Trustees approved a 5.2 percent increase in next year's undergraduate tuition and fees Thursday.
Doug Hennes, vice president of university relations, said a number of factors contributed to next year's tuition increase including more financial aid, faculty and staff raises, improvements in technology, building projects and elevator retrofitting.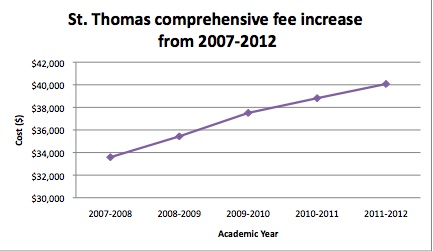 "There are a lot of factors that go into considering what your cost structure is and how much you want to charge for that," Hennes said. "At the same time you want to try and keep the education affordable, and there's more sensitivity to that I think during trying economic times like we've had for the last three years."
Room and board fees will rise 3.7 percent, bringing the comprehensive fee for next year to $40,701.
Sophomore Jessica Pimpo is an apartment coordinator at the women's transfer house on Summit Avenue. The university pays for her room and board, but she is worried about how the tuition increase will affect her classmates.
"I think about my peers and knowing their financial situation, working their way through college, this could very well have a negative affect on students," Pimpo said. "College prices are already expensive; I know nobody wants to transfer their senior year."
Paying tuition is already difficult for sophomore John Young.
"I'm already paying for school and I can barely afford to go here as it is," Young said. "I had to move off campus to save some money."
Young said he will have to work a lot this summer and save up his money in order to return.
Freshman Ellen Pappas said she may need to pay her parents back for school now because of a deal she made with them after choosing St. Thomas instead of the University of Minnesota.
"I feel like the increase is steep and $38,000 was already a lot of money," Pappas said. "I feel like I need to get a job."
In the last five years, tuition increases have averaged 5.5 percent per year.
St. Thomas ranked eighth in comprehensive fees among the 17 institutions of the Minnesota Private College Council for the 2011-2012 school year. Only three MPCC institutions have had lower comprehensive fee increases during the last five years than St. Thomas.
To combat the university's lowest tuition increase in 16 years, St. Thomas started a cost-saving initiative last year. Some of the changes included making class sizes larger, cutting about 50 staff positions and night custodial work, and eliminating December commencement.
"If we would have approved a budget of 3.5 percent tuition increase again for next year, we would have had to do even more cost-cutting, and it would have gotten increasingly difficult to do it," Hennes said. "But to go in there and cut even more, we believe it would affect the quality of the education we can offer."
Hennes said the tuition increase is not the result of the Anderson Athletic and Recreation Complex and the construction of the Anderson Student Center. The cost for the two buildings is part of a separate budget covered through gifts and building revenue costs.
St. Thomas' undergraduate financial aid budget will rise 8.9 percent. The financial aid budget has increased an average of 11.7 percent per year in the past five years.
"Everybody has the same goal," Hennes said. "They want to provide a quality education for an affordable price."
Ashley Stewart can be reached at stew1177@stthomas.edu.