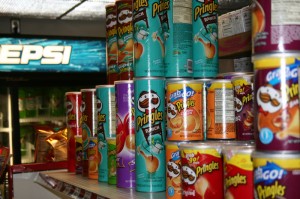 Procter & Gamble recalled two versions of Pringles chips because of concerns about potential Salmonella exposure.
The Cincinnati-based consumer products maker said Cheeseburger and Taco Night versions of the snack are recalled. The company is offering replacement coupons or refunds.
Joshua Moldenhauer, C-Store supervisor, said those flavors aren't sold at St. Thomas, and Pringles is one of the lowest selling products on campus.
Procter & Gamble said the two varieties represent only one-half of 1 percent of Pringles' U.S. volume. The company said there have been no reports of illnesses.
Procter & Gamble is the latest company to recall products with flavor-enhancing hydrolyzed vegetable protein made by Las Vegas-based Basic Food Flavors Inc.
Federal authorities say Salmonella, an organism that can cause serious infections in young children and others with weakened immune systems, was found on Basic Food's processing equipment.
Patrick Stumpf can be reached at stum3488@stthomas.edu