Junior Camri Walton knows from experience that it's difficult to find balance between being a full-time college student and being a mother.
When Walton started college at St. Thomas three years ago, she was already five months pregnant with her son, Cameron. She remembers that while pregnant, one of the most difficult things was finding resources like financial aid and grants to help pregnant students. Walton looked for pregnancy resources on campus but that just led to frustrations and dead ends.
"I looked for resources and there weren't any on the St. Thomas Web site," Walton said. "[I thought] maybe people who go here don't have kids or something."
But the main concern is not that St. Thomas lacks resources to help students who are pregnant or who become pregnant. The concern is that students may not know just where to find resources already on campus.
Finding resources
Dean of Students Karen Lange stressed the importance of having various department staff that are knowledgeable and aware of the different resources available.
"We certainly hope through orientation or through the Dean of Students office or health services or Residence Life, that students will connect with staff members that are knowledgeable and can connect them and help them with resources," Lange said.
One of the resources Lange mentioned was a program St. Thomas is a member of – the Bridging program – that works with students to receive such things as furniture and cribs. St. Thomas also works closely with the Jeremiah Project to help get housing and day care assistance for single women and their children.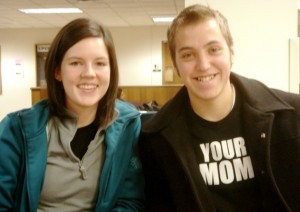 Updating and centralizing the current resources
Students for Human Life leaders junior Nick Haugan and senior Jenna Lavold decided to update and centralize the current campus resources after attending the Students for Life in America conference last year.
"That's what we really want to get out there – that women do know they have the resources out there that they can draw upon," Haugan said. "What it is going to take is that it's going to be centralized and easy to find."
Haugan started researching current campus resources last January and spent an estimated 10 hours searching through all of the departments for the necessary resources.
"I found a lot of resources that are outdated, like for example, on the 'Students Who Are Parents' Web site, which can be found through the commuter Web site," Haugan said. "It says St. Thomas still refers women to college nannies, which they don't do anymore because of liability issues."
Lavold and Haugan are now creating a pamphlet listing all the resources available to students who are pregnant or may become pregnant.
"We're almost to the point where we can make the brochure, we just have a few more contacts to make and a few more updates," Lavold said.
Though the pamphlet won't be done and presented to various departments until this spring, Haugan and Lavold have high hopes for their project.
"We just went one further and said, 'Yes, here's the link but here's also the phone number. Here's who you can call and this is a brief outline of what they do,'" Lavold said. "Because who wants to sit for 10 hours to find all of the right answers."
The benefits Lavold and Haugan hope to provide with this pamphlet includes more than just students.
"It's not only necessary for students who are pregnant or who currently have children but for faculty, staff, visitors to campus, parents who come to campus, just to have those resources on campus, as well as have those resources available to students who get pregnant," Haugan said.
Lange is not opposed to having a specific location for all of the available resources to make it easier for people to find.
"I think we can go back and put more resources in one central location and I think we could have it connect to different Web sites on campus," Lange said.
A family room a possible addition to the new student center
In fact, with construction of the new Anderson Student Center, a centralized location of current resources is a possibility.
"In the new student center, one of the things we're looking at is a family room and that family room would have resources there and it would also be a lactation space," Lange said.
Walton now receives most of her help raising her son from family and friends as well as receiving child care assistance through Hennepin County, but said having a centralized location of all the resources available to students like herself would have helped.
"The last thing, I mean you're already overwhelmed so you don't want to be running around from here to there looking like I was and not finding anything," Walton said. "It's frustrating."
Pauleen Le can be reached at ptle@stthomas.edu