The definition of adulthood in the United States may see some changes as new legislation will change the way American consumers under the age of 21 receive a credit card.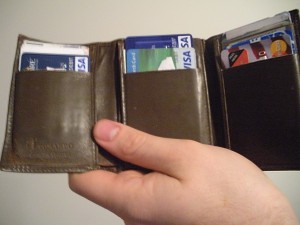 Effective Feb. 23, the Credit Card Accountability Responsibility and Disclosure Act will employ new credit card regulations that will require people under the age of 21 to have a co-signer or provide proof they have the resources to repay their potential debt before they can even have a credit card.
Under these new restrictions, the co-signer, who can be a parent, guardian, spouse, or any other adult over 21, is responsible in the end for any debt the owner of the card cannot pay.
Junior Cristen Bonz, who uses her credit card as a means to pay for books and other school needs, said she feels that this legislation has good intentions but that it should be up to individual students whether they can have a credit card or not.
"I think it's fair to let 18-year-olds dig their own graves," Bonz said. "[It] teaches them to be responsible now."
Bonz said she uses her credit card mainly to build her credit and she receives 3 percent cash back for her purchases. She pays her bills every month to be sure she does not fall behind.
According to a Sallie Mae report, college students have used credit cards more in 2009 than ever before, including charging tuition and other education expenses.
The study, "How Undergraduate Students Use Credit Cards," reported that 92 percent of undergraduate credit card holders charged textbooks, school supplies and other expenses to their credit cards and nearly 30 percent had put tuition on their credit cards. In total, students who use credit cards charge an estimated $2,200 for educational expenses.
Shutting down on-campus credit card marketing
In addition to putting restrictions on how minors obtain credit cards, the Credit Card Accountability Responsibility and Disclosure Act will prevent credit card companies from marketing to college campuses.
The law would require college campuses to publicly disclose any agreements credit card companies make with the institution to market toward students.
According to St. Thomas' solicitation rules, the university requires written permission for any sale or solicitation of products on campus.
The department of Campus Life grants permission to off-campus nonprofit organizations such as credit card companies for no more than two days. Any sales on campus will be limited to assigned tables in Campus Square or the residence halls.
Banks and credit companies are seen often on campus over the course of move-in weekend, targeting students to apply for a card and receive student specials like the three percent cash back that Bonz receives when she uses her card.
Under the new legislation, college students are protected as credit card companies will not be allowed to advertise on college campuses.
"I think this is a smart move as incoming freshmen can easily fall for credit card perks," said senior Rory Tucker. "I applied for a credit card my freshman year and ended up being late on my first bill. This could prevent that."
Brian Matthews can be reached at bsmatthews@stthomas.edu