St. Thomas will host an NCAA Division III football semifinal Saturday for the first time, and the campus is busy with preparations for the big day, including some for ESPN.
Bill Carter, manager of special projects and events for St. Thomas Public Safety, said the biggest change is that the game will be televised on ESPN. This requires the help of the Physical Plant, Information Resources and Technologies and Public Safety.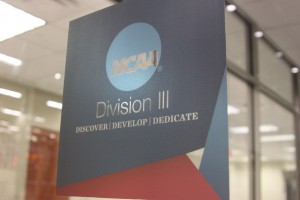 "They need stands built for their cameras, they need a lift for their cameras," Carter said. "IRT is involved because of phone lines and Internet access that they need, (Public Safety) is involved because of parking the vehicles."
Athletic Director Steve Fritz said even though the Tommies are playing at home, the game isn't considered a regular home game.
"During the regular season, everything belongs to St. Thomas," Fritz said. "This becomes an NCAA playoff game so it's expected to be a neutral site. We're the home team, but it's expected to be fair for everybody to have a chance to win."
To be fair, the host team is not allowed to advertise.
"The NCAA has its own partners, so you have to cover most of your own signage, especially anything that would conflict with their signage," Fritz said.
Carter said ticketing is another change for NCAA games.
"Everybody needs to pay. There's no passes and no discount tickets," Carter said.
Fritz said since the game is ticketed, there are certain windows on campus that may be covered.
"(There are) common areas, like the student center, where people can stand and view the game," Fritz said. "You either have to charge to put people in there, or you have to cover it up."
Although junior Tim Pelcak may not agree with the regulations, he said he understands why they're present.
"I get the rules, they just want people to watch their channel. It's a business," Pelcak said.
Carter also said the school is required to have extra safety personnel at the game.
"We're going to have the St. Paul Fire Department's paramedic unit here," Carter said. "The way that system works is if a player goes down and a trainer's out on the field, we'll have one of our officers go out onto the field."
Junior Heaven Fekadu is excited for St. Thomas to get this kind of exposure.
"It makes me feel proud that our sports are so good," Fekadu said.
Carter said the university is working to get Oshkosh fans and family members to St. Thomas on game day.
"We're also working with University of Wisconsin-Oshkosh alumni association and parents group about their transportation needs so they can come here and have a good experience as well," Carter said.
Fritz said St. Thomas is expecting 3,000 to 4,000 fans from Oshkosh Saturday.
Although it may sound like a lot of work, Fritz thinks it's all worth it.
"(It's) a lot more preparation but that's what you want, and that's what you expect at this time," Fritz said. "It's also a time to showcase the campus via the coverage on ESPN this weekend."
Carter said he also views this as a great opportunity for St. Thomas.
"The idea of us, meaning the university, hosting the semifinals of the national championship in football is just unbelievable," Carter said. "Hopefully we can continue on, and continue our win of national championships this year."
Tarkor Zehn can be reached at zehn0241@stthomas.edu.