Starting in February, senior Mike Valesano and his two friends, 2012 alumni Alex Daley and Matt Scott, created a non-profit organization called Dribble Daily.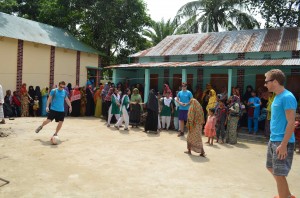 Valesano said the organization's vision is to transform urban decay into recreational green space in impoverished communities in the U.S. and internationally.
"The mission of our non-profit organization is to provide simple, environmental friendly, soccer infrastructure to impoverished communities around the world," Valesano said. "We want to go into poverty stricken areas, low income areas (and) high diversity areas and take some unused brown space, some big empty parking lot and transform it to green space."
Valesano mentioned that his work with Dribble Daily caught the eyes of the NCAA when he was named to the 2012 Allstate American Football Coaches Association Good Works Team in September.
"I feel very honored and blessed to be able to give back to the community and the people that got me where I am today," Valesano said.
Valesano said Daley and Scott reside in Nepal where they are working on the project.
Daley mentioned the biggest problem they see over there is the absence of adequate community planning.
"The world is at a crossroad for urban development," Daley said. "Sustainable and environmentally-friendly infrastructure is the type of progressive engineering the world needs. It's extremely polluted and overpopulated, space is poorly utilized in most places. We hope to offset this through the construction of recreational green spaces."
Valesano said the group is working on getting its tax exempt status.
"Daley, Scott, and I are the manpower behind the projects," Valesano said. "We are in the process of obtaining our 501(c)(3) tax exempt status. We hope to be legally registered in the coming weeks."
During his time at St. Thomas, Daley was on the soccer team all four years. Valesano said Daley's passion for soccer and Scott's knowledge of the environment propelled the idea to reality.
"I lived with Alex Daley for three or four years and he's a huge soccer guy," Valesano said. "(Scott's) an environmental science major and is big into the green space. We got our website cooking now; we're pushing out more videos and getting a lot more exposure."
There is more to their project than the creation of new playing fields. Valesano, Daley and Scott hope to tackle health problems such as obesity and racism by promoting "teamwork and discipline."
"The soccer pitch gives kids a great forum to learn teamwork, cultivate leadership, and to use their time in a constructive manner," Daley said.
Ann Johnson, director of the St. Thomas Center for Nonprofit Management said Valesano, Daley and Scott are the kind of people who follow through with inspirations.
"A lot of people get the inspiration and they don't do anything," Johnson said. "It's those kinds of people who are unique and say, 'You know what, I think I can make this happen,' and then they start talking with friends and family and peers and can usually get people on board."
Valesano said the Dribble Daily website was developed as a way to spread its message across the world. The website has even drawn the attention of the Texas-based company Yellow Rose Pageantry, which is listed as a sponsor on the Dribble Daily website.
Melissa Trawick-Sullivan, the director and owner of Yellow Rose Pageantry, said she feels Dribble Daily sets a great example for youth, especially those in the pageantry world.
"We are proud to sponsor them and their vision," Trawick-Sullivan said. "The young people in the world of pageantry can follow the dedication and vision of Dribble Daily and learn that making a difference is important, possible and rewarding at any age."
Valesano also mentioned Daley's family ties to Texas as another reason for their sponsor.
"Daley has family ties in Texas where Yellow Rose is located," Valesano said.
A promotional video titled "Soccer for a Social Change," was recently added to the front page of the website. The video, which presents details of the mission, is already closing in on 3,000 hits within one week of its release.
Valesano said that the video was made to draw more eyes to the project. He also noted that donations are needed to help pay for the recreational fields in the future.
"This promotional video is really the first time we went public and tried to gain attention from it," Valesano said. "We just want more eyes to see what we are trying to do and eventually we want to get donations to receive money and put that money to use for the green space and soccer infrastructure."
Valesano would like to join Daley and Scott in Nepal to help work on their project, but mentions that he does not have enough time off to be able to go there.
"This is my last semester and I'm going into coaching after this," Valesano said. "I've had an opportunity to do a lot of traveling (through) study abroad and VISION, but I don't know if I'd be able to join them."
Each member of the group had praise for their Tommie mentors. Daley mentioned former soccer coach Aaron Macke and Business 200 Program Coordinator Barbara Gorski as inspiration. Scott mentioned geology Professor Jennifer McGuire, and Valesano noted football coach Glenn Caruso.
"We just want to recognize people who believed in us and inspired us to follow our dreams," Daley said.
Andrew Eisele can be reached at eise6299@stthomas.edu.