This week students who dined in the cafeterias on campus had an opportunity to show some love for the environment by participating in Trayless Tuesday. But will Trayless Tuesdays continue to be a weekly event for St. Thomas?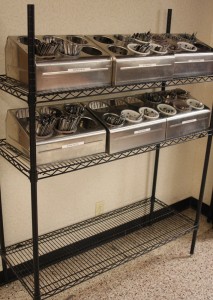 "Not at this time," said Director of Dining Services Todd Empanger.
Dining Services has asked the St. Thomas Green Team to work with the Residence Hall Association and the Undergraduate Student Government in gathering and understanding student opinions on a trayless cafeteria.
Empanger said because on-campus students make up about 90 percent of the cafeteria's business, those students should be involved in the decision making process of continuing Trayless Tuesdays.
This week's trayless event was organized by the Green Team in an effort to educate students about reducing food waste in addition to saving water and energy.
Abigail Yeomans, a Green Team member and this week's Trayless Tuesday leader, explained the importance of informing students and creating a conscious mindset.
"I feel it's important to have this tangible activity, where you're thinking about how much you're taking and how much you're wasting," she said. "So it all clicks."
Elimination of trays causes other necessary investment
While the environmental benefits are difficult to ignore, other factors that make a trayless cafeteria possible may or may not be completely beneficial. Although the trays are being eliminated, investment into other components might be necessary, Empanger said.
Without trays, there are more spills, meaning it costs more money to staff and run the dining services. Purchasing larger cups so students do not have to carry multiple small cups would also be costly.
"We're not set up for a trayless operation no matter how you look at it," Empanger said. "Is it beneficial? That's the question we don't have answers to yet."
Sophomore Ben Wills said going trayless helped him reduce waste.
"It made me consider my choices a little bit more when I walked up," he said. "I usually get a salad and then don't really eat it, so yes, I did conserve more today. It made me more thought-conscious about what I was going to get."
Trayless possibilities in Anderson Student Center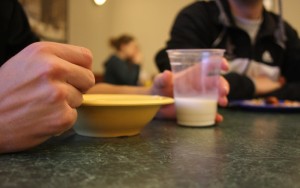 The possibility of going trayless in the new Anderson Student Center dining hall is still up in the air, Empanger said, and no decisions have been made yet.
Yeomans said she hopes a gradual trayless transition may lead to a completely trayless cafeteria in the new student center. The plan was to make Trayless Tuesdays a weekly event, so next year it could be Trayless Tuesdays and Thursdays, and then finally no trays at all.
"When the new student center is done we'd have a trayless cafeteria there," Yeomans said. "That was my goal. It is still my goal. I have to work a little harder now."
In a Trayless Tuesday experiment conducted last year by RHA, it was reported that going trayless reduced food waste and water and soap consumption by 30 percent.
Sally Schreiber can be reached at sfschreiber@stthomas.edu