St. Thomas is trying to make it easier for international students to adjust to American lifestyles.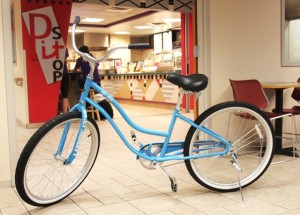 After a student survey from 2007 revealed that 65 percent of St. Thomas international students reported weight gain after arriving in the U.S., the St. Thomas Wellness Center applied for and received a $2,500 grant last spring to teach about healthy living in the U.S.
As part of its project initiatives, the Wellness Center decided to provide three new bicycles in order to increase access to healthy food choices.
The Loftus Diversity Endowment Mini-Grant was created by university friends Mary Jo and Bob Loftus in 2006 at St. Thomas. The fund is used to support programs and projects to implement initiatives that address diversity goals and interests. Graduate Assistant Casey Speaker said the Wellness Center had to submit a proposal with its objectives and time table.
The first objective was for international students to demonstrate greater understanding of healthy food choices in the community, and the second was for international students to understand the importance of regular exercise as a component of good health and weight management.
The bicycles are new additions to the BEAST bike share program. The program allows students to rent a bicycle for up to seven days for free.
Speaker has been working with the Wellness Center on the bike initiative to achieve the project objectives.
"The new bikes do not have gears or hand breaks and are meant to be simplistic so that they resemble the bicycles that are common to the home countries of the international students," Speaker said.
International student senior Lukasz Wlosiak thinks it is great that new initiatives will help international students travel through the neighborhood.
"A vast majority of international students do not have cars. That is why we really need means of transportation to get around," Wlosiak said. "So any sort of help that is aimed at helping international students and that is aimed at helping us get around is very beneficial."
International Student Services Graduate Assistant Mohammed Al Zaher believes it is difficult for international students to adapt to an American diet.
"When international students first come here, they start to feel homesick. It is even harder for them because they are not with their families, friends and because they are adapting to a different culture," Al Zaher said. "I think a lot of them start snacking and sitting in front of the TV in order to keep themselves busy, so that they are not thinking about home as much."
Speaker said the Wellness Center plans on providing a series of nutritional workshops that will be led by a dietitian focusing on healthy food choices on and off campus.
"We have also provided international students with gift cards for Whole Foods in which they were able to go on a tour of Whole Foods and learn about how to grocery shop essentially in the states," Speaker said.
Junior Alexander Ssengendo appreciates the efforts that have been taken to help international students and has further suggestions for the new initiatives.
"As an international student, when you are a freshman, you don't know where Cub Foods, Rainbow or Whole Foods is," Ssengendo said. "So if they could provide some information such as addresses and phone numbers of these grocery stores at an information desk, it would be really helpful to us."
Junior Molly Baatz agreed that these initiatives are beneficial for international students.
"This makes it a lot more convenient for these students to have access to things we may take for granted," Baatz said.
Anna Tu can be reached at tu978399@stthomas.edu.