The City of St. Paul lifted citywide winter parking restrictions March 27, putting an end to the month-long requirement that only permitted parking the odd sides of residential streets.
The ban, which started March 1, ended after a consultation between the City of St. Paul and the St. Paul Fire Department. The streets were deemed wide enough for emergency vehicles to drive through safely, according to Dave Hunt, City of St. Paul public information officer.
William Carter, Public Safety special projects manager, said the city and the fire department knew why it was necessary to lift the restrictions.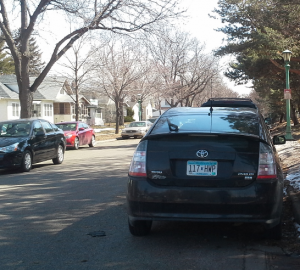 "The fire department understood the importance of people wanting to park on both sides of their streets," Carter said. "They lifted it as soon as they believed it would be safe."
With the removal of the ban, parking has opened on both sides of the street, something that sophomore Jon Wang said will make parking around campus much easier.
"It was really hard to find parking," Wang said.
Junior Mitch Bolkcom said the restrictions often made it necessary for him to park six blocks away from campus.
"As a commuter student, it limited the options I had to park," Bolkcom said. "It made it a little bit more difficult to find a parking spot."
The university saw an increase in parking permit purchases when the ban was in place, Operations and Parking Manager Diana Kaardal said.
Sophomore Olivia Larson purchased a permit at the beginning of the year, before the restrictions went into effect.
"It's vital that I can find a good spot to park every morning as quickly as possible," Larson said. "Street parking is usually impossible to find after 8 a.m."
As a result of the parking ban, Hunt said the City of St. Paul issued more than 7,000 tickets and towed more than 200 vehicles.
Though Carter said he was aware of the difficulties the restrictions created, he said safety was the No. 1 concern.
"I think the safety issues and being able to use the streets in an effective way clearly outweighs the minor inconvenience," Carter said.
The restrictions will continue to apply to select streets that are still too narrow to allow emergency vehicles to pass through safely, according to the City of St. Paul's website. These streets will be marked with signs.
Rebecca Mariscal can be reached at mari2162@stthomas.edu.