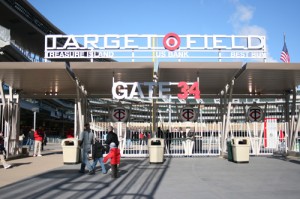 With the warm weather and the Twins' regular season opener in Target Field quickly approaching, many St. Thomas students cannot wait to watch their home team play outside.
Freshman Adam Anderson and junior Kayla Toering are no exceptions. Both Anderson and Toering attended at least 20 Twins games last season and will attempt to do the same during Target Field's inaugural season.
"My family has a 20-game plan that we share with another part of our family," Anderson said. "I also buy another group of tickets for myself, so I dropped like $400 last week on tickets."
Toering also plans on buying tickets, but has found that it is not as easy to get tickets for Target Field as it was for the Metrodome.
"I'm planning on going to about three or four games in May and early June," Toering said. "I haven't bought all of the tickets yet, but I was just online about three or four days ago, and if I wanted to go the first two or three weeks, it would be really difficult because there aren't any tickets available."
If students are lucky enough to get tickets, it sometimes comes down to the tough decision of whether to attend class or the game.
"During the fall I skipped quite a few times because I wanted to see the playoff games," Anderson said. "There was no way I was missing that for class. Now I'll try to go to the afternoon games because I can just skip class and go, especially now if it is warm out."
Luckily for Toering, morning classes allow for perfect baseball-watching opportunities.
"I'm usually more of an early class taker, so it's usually not really an issue." Toering said. "But given the circumstances, I would consider [skipping class]."
With Target Field's first regular season game on a Monday night, Anderson said he has some hope in finding tickets for the big day.
"I don't have tickets for that yet, but if I come up with some more money, I'll find a way," he said.
Toering has chosen to simply watch the game from home, knowing that the possibility of getting affordable tickets is slim to none.
"I usually have a Monday night class, but [the game] starts at 3 p.m., and my class doesn't start until 4:45 p.m., so I'll see what I can fix," Toering said.
In the past, STAR has been able to offer multiple nights to attend the games at discounted prices, including opening day. However, tickets for student outings may be harder to come by this year than in the past.
"We normally get tickets for four or five games, even the home opener, but that was just not possible this year," junior Mo Berkowitz said.
Berkowitz is a STAR programmer who deals primarily with getting tickets to major sporting events in the Twins Cities for students. In the past, she found little to no difficulty getting tickets to multiple Twins games.
"Usually it's not an issue," she said. "However, this year we were only able to get 40 tickets to one game. Other offers were made, but the games were during finals or when we are already out of school."
Student nights through Target Field will still take place on Wednesdays, but if students don't act fast, there might not be tickets left to purchase.
"We do still have student nights," Twins Corporate Communications Manager Chris Iles said. "That said, tickets are going to be difficult to get here in general just because of the unprecedented demand this year. So I'd recommend if you are interested in taking advantage of the student night tickets, go online or call 1-800-33-TWINS now. There will be tickets available, but it's hard to say how many."
Meg Tvrdik can be reached at tvrd0386@stthomas.edu.