Modupe Ogunbayo, an assistant editor for a weekly newsmagazine in Lagos, Nigeria, spoke at a discussion panel Tuesday night about how writing controversial material can have fatal consequences in her home country.
"On the surface the media looks free," Ogunbayo said. "But if you do some story that the government doesn't like, they don't want you anymore."
Ogunbayo was one of 10 journalists from the World Press Institute who participated in the discussion panel in the O'Shaughnessy Educational Center auditorium. The WPI journalists have spent two months in the United States learning about U.S. journalism, and they have lived at St. Thomas for half that time.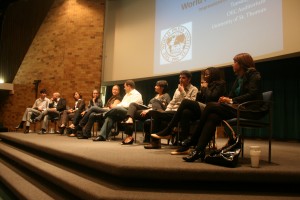 The journalists come from a variety of countries including China, Egypt, and Hungary. The WPI "bring[s] 10 journalists each year from around the world to the United States to experience the complexities of U.S. life through the prism of a reporter working under First Amendment conditions," according to the WPI website.
The journalists answered questions on a variety of topics, mostly pertaining to their experiences in the United States. They were asked about everything from their dining preferences during their stay to their experience getting visas from U.S. consulates. Most of the discussion dealt with what the foreign journalists learned about American journalism during their stay, and how it related to how journalism is practiced in their home countries.
Many journalists compared the American freedom of the press to the freedom of the press in their home countries. Abel Escudero Zadrayec, editor-in-chief for a daily Argentinian newspaper, said he was very surprised that American news organizations did not allow journalists to display personal views on their personal Twitter or Facebook pages.
"You are supposed to be reporter and don't have an opinion," Zadrayec said. "Everyone has an opinion, and to pretend that you don't is [hypocritcal]."
He added, "You ask people for your opinions and you don't give yours. That's really strange to me."
Panel moderator Kris Bunton, chair of the communication and journalism department, asked the journalists about the disproportionate number of women going into American journalism, and if they were experiencing this same gender imbalance in their home countries.
Said Lotfullah Najafizada, senior editor for Tolo TV and Quqnoos News Agency in Kabul, Afghanistan, said in his home country they have trouble finding female journalists.
"We were trying to hire a female actor for our morning show, and it took us half a year to find one," Najafizada said. "It's really hard to be on the screen in my country, especially for women."
But he said this difficulty did not extend to all levels of journalism in the country.
"For the management level, it's a different case." Najafizada said. "There are a number of agencies run by women, and there is no doubt about their talent."
Atilla Póth, a foreign news editor for a private television station in Budapest, said the opposite seemed to be true in his native Hungary. He said there are plenty of female journalists in his country, but very few in higher authority positions.
The journalists, who have been in the U.S. since the middle of August, will head back home this week.
Dan Cook can be reached at Cook9156@stthomas.edu.