Students in Sherry Jordon's theology class write out instant message conversations between themselves and famous Protestant reformers, create dialogues for a mock debate on Oprah and pretend to be bloggers in 16th-century Geneva.
"These kinds of writing assignments engage the students and make historical figures come alive," said Jordon, who teaches theology of the Protestant and Catholic reformation. "And when students are engaged and enjoying something, that's when they learn the most."
Senior Joshua Bauder is in Jordon's class, and he said the writing assignments help interest students in material that can seem tedious.
"Presenting these historical events in contemporary settings and language can make the assignments a real hoot, as well as an effective method of learning the material," Bauder said.
The Writing Across the Curriculum program
Jordon's class is part of the new Writing Across the Curriculum program at St. Thomas that began this semester. Faculty who teach WAC classes attended a seminar this past summer that taught them how to teach writing and incorporate it into every discipline.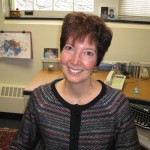 Erika Scheurer, WAC director and English professor, said the program is designed to teach students that writing is a way of thinking and learning.
"When you write, you are employing the mind, the eye and the hand," Scheurer said. "This combination leads you to engage with material in a deeper and more complex way than you would otherwise."
Professors teaching WAC classes are encouraged to assign "low-stakes" and "high-stakes" writing assignments. Jordon's assignments would be considered "low-stakes" assignments, which are meant to stimulate creativity and aren't harshly graded. "High-stakes" assignments include more involved writing assignments such as research papers. Students complete "high-stakes" assignments step-by-step so professors can see where students need the most help in the writing process.
"We want to eventually make taking WAC classes a core requirement, like diversity or any other requirement," Scheurer said. "But that's still a few years down the road because we need more funding."
Art history professor Craig Eliason is teaching a WAC course this fall and he said the experience has changed his teaching style.
"I went from being only a fount of knowledge to students to being a guide through the writing process," he said. "And all these writing assignments haven't translated into more work for me because we do peer revision and I've learned to use writing to teach concepts I used to teach in other ways."
Eliason said he has also learned more about the process of writing.
"A lot of people, myself included, think the order you go through is you think of a bunch of ideas, then write them down," he said. "But I've learned that writing itself is a process of thinking."
Unique WAC assignments
Senior Erin Lyle enjoyed creating an instant message conversation between herself and Protestant reformer John Calvin for Jordon's class.
"We had to write out a conversation with Calvin discussing his theory on predestination," Lyle said. "I think the real benefit of the writing assignments is you have to really know the material to be able to make jokes and change the writing style. In a serious scholarly paper it is much easier to regurgitate information without understanding it, but this requires a different depth of understanding."
Junior Louise Esjornson had a number of favorite assignments from Jordon's class, including one in which students wrote transcripts for a mock debate on the opinions of two 15th-century authors that would be aired on the Oprah show.
"The debate was on the morality of women and whether they were as intelligent as men," Esjornson said. "Then in class, we debated and Dr. Jordon was Oprah."
Esjornson also liked writing an imaginary diary entry for a historical figure.
"We wrote a diary entry from the point of view of a daughter whose mother was a dead radical reformer," she said. "We had to think about what it was like to be one of those people, not just read old texts."
Eliason had students in his art history class look at works of art and divide their papers in half. On the left side, he told them to write descriptions of a piece of art, and on the right he told them to write down their reactions to the piece and any deeper meanings they saw in it. He said it made students look at the art in a new, deeper way.
Esjornson said short assignments like the ones Jordon assign force her to stay caught up on her reading and help her understand primary source documents better.
"The assignments are geared towards helping us understand where people are coming from," Esjornson said. "They encourage us to see both sides of an issue. I really like them because they prevent history from being boring."
Katie Broadwell can be reached at klbroadwell@stthomas.edu