Students are rolling out their mats in the Anderson Athletic Recreation Complex for yoga and fitness classes, the most popular activities offered in the facility for the last two years.
Three levels of yoga classes are available: basic yoga, intermediate yoga and yoga sculpt. Ruth Sinn, head of the AARC fitness classes, attributed yoga's popularity to the instructors and the trendiness of the workout.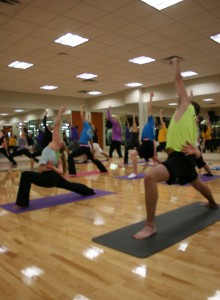 "I'd like to think that we have very quality instructors," Sinn said. "I (also) think that it's the trend to do whole body fitness and development."
Sinn said the yoga and Zumba classes are currently the most popular classes the AARC offers. Both typically reach enrollment capacity of 20-30 students each session, and Sinn said those numbers have remained steady.
The AARC employs yoga instructors both from St. Thomas and from CorePower Yoga, a nation-wide yoga studio with local branches. Sinn said since the classes are on campus, and the instructors are just as experienced at other fitness gyms in the area, the classes are a good option.
"The neat thing about our fitness classes is that they are quality classes like you would find in a gymnasium," Sinn said. "The convenience of being here on campus and being able to get that workout in is just phenomenal."
Many students agree that the yoga classes' convenience is one of the main reasons they sign up through the AARC, rather than other yoga studios or gyms in the area.
"It's a lot cheaper doing it (at the AARC) in sessions and it's more convenient because I live on campus," junior Laura Johnson said.
While local yoga studios typically charge around $100 a month for student memberships, the AARC offers yoga classes for students at $35 a session (eight class meetings). Students also have the option of purchasing multiple sessions per semester, so they can fill the semester with three class sessions of their choice.
Sinn said the revenue made from fitness classes goes to repaying AARC construction debts, as well as covering equipment costs and the cost of instructors.
"One of the goals of the fitness classes is to produce revenue to pay off the debts that we have," Sinn said. "We're very fortunate to have these fitness facilities, and so (the profits) all go to that."
The classes have not only been popular among St. Thomas yoga-lovers, but also student athletes looking to improve their performance in their respective sports.
"I do (yoga) because I play baseball and I need to work on flexibility and core strength," junior Tommy Danczyk said.
While yoga may be the most popular kind of fitness class now, Sinn said fitness is always changing, and AARC faculty works to accommodate the students when choosing classes to offer.
"We're always looking to add new fitness classes; you know how fitness is, all of a sudden it's step aerobics and then it's Zumba," Sinn said. "We're trying to make sure we stay ahead of the curve and we offer what students are really looking for."
Gabrielle Martinson can be reached at mart5649@stthomas.edu.