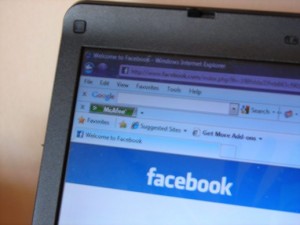 Laptop computers are the best cure for classroom boredom.
I don't even have to bring my own laptop to class to distract myself. I can look around the room and get sidetracked by what everyone else is looking at on their computers.
If I see someone searching through last weekend's Facebook photos, I feel a sudden urge to go check my own notifications. Or I see someone open their e-mail, and I start to wonder how many new e-mails have piled up in my own inbox. Laptops provide a type of contagious distraction, and they're becoming a problem in college classrooms.
Many universities have banned laptops entirely in the classroom, according to The Washington Post. Administrators at these universities decided that taking notes by hand was worth the inconvenience if it meant students would learn more during lectures, other than learning how to quickly minimize Web site pages when a professor starts walking around a classroom.
Even though laptops aren't as common in classrooms at St. Thomas as at other large universities, we shouldn't wait until laptop distraction becomes an even larger issue. St. Thomas should ban laptops in the classroom to help students stay focused.
Students are paying $90 for each hour of class. If they get nothing out of the lesson, they just paid $90 for an expensive hour of free Internet access. And even if students bring laptops to class with the best intentions, the distracting power of the Internet will always win.
I brought my laptop to class once because we were going to look at journal articles and instead of printing them off, I decided it would be easier to read from the online versions in class. I told myself I would only open one window to read the journal articles, I would listen to the professor and I would definitely not check Facebook or my email.
That lasted all of five minutes. The first time I started to feel a little bored, I opened the St. Thomas home page. From there, it was just a few clicks until I was checking my e-mail. There were so many new e-mails, I felt I had to respond right away. One of the e-mails reminded me that my professor from a different class had just posted our test grades, so of course I had to look at my new grade.
I jumped from Web site to Web site and before I knew it, I was Googling random topics and had no idea what the professor was talking about.
Problems with using laptops
I'm sure many people bring laptops to class with the intention of using them to type their notes. But I'm willing to bet that every student who has brought a laptop to class has used that laptop to look at a Web site which is unrelated to the class.
It's rude to professors when students tune them out by shopping online, working on homework for other classes or playing video games. It's also rude to the other students if, instead of participating in class discussions, students are Facebook chatting with their friends and ignoring the comments of the people around them.
Psychological research has shown that multitasking doesn't work. Students who think they can successfully listen to the professor and surf the Web at the same time are wrong. People who multitask remember less information and are worse at switching between tasks than people who don't multitask.
One professor featured in the Washington Post tracked the grades of students who routinely used laptops in her class. She found that the average grade of the "laptop addicts" in her class was a 71 percent – almost the same grade as students who didn't come to class at all.
The article also mentioned a professor who got so frustrated with students using laptops and ignoring him that he poured liquid nitrogen over a laptop to freeze it before smashing it on the floor. That's obviously an extreme reaction, but it shows how annoyed professors can get when students choose to ignore them in class.
Students should want to get the most out of their classes and respect their professors and fellow classmates. If laptops are preventing students from learning, they have no place in the classroom.
Katie Broadwell can be reached at klbroadwell@stthomas.edu.