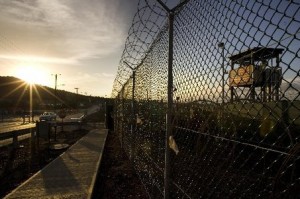 Today marks the eighth anniversary of the day that 20 detainees were first brought into Guantanamo Bay.
A year after President Barack Obama promised to close the detention camp in Cuba, nearly 200 inmates still remain uncharged. The Obama administration said in December that it might transfer prisoners to an Illinois prison facility, but merely moving detainees to the United States without charging them will merely be an extension of the same problem.
The United States should observe the eighth anniversary of this ill-conceived blunder by either charging detainees in federal court or releasing them.
The practice of holding detainees without charge is in violation of international agreements, such as the Geneva Convention, and is even a transgression of our own constitution. It is for this practice that the United States suffers a poor reputation around the world and it is one that Obama promised to change when he took office.
Further, it is important that those charged with crimes be tried in a federal civilian court rather than in inept military tribunals. Only in a civilian court will the accused receive a fair trial. And since Sept. 11, 2001, federal courts have tried more than 200 terrorism cases, with most returning a conviction. In the eight years Guantanamo Bay has been open, military tribunals have only been able to acquire three convictions.
It is time for the United States to clean up its act and show a new face to the world. No longer should we be able to indefinitely detain prisoners without any rights. If they are guilty, charge them with a crime and get them to court. If we can't find any evidence on them, it's time to let them go.
Aaron Hays can be reached at hays2206@stthomas.edu