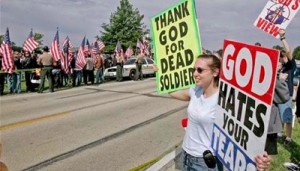 Marine Lance Cpl. Matthew Snyder died March 3, 2006, in a non-combat related vehicle accident in Iraq. Unfortunately, his family was not able to lay him to rest with the dignity and honor every soldier deserves.
Members of the Westboro Baptist Church tastelessly interrupted his service, carrying signs that read, "God Hates You," and "Thank God for Dead Soldiers."
The Westboro protesters, whose church is in Topeka, Kan., frequently picket the funerals of military officials and soldiers killed in Iraq and Afghanistan because the church's leaders assert that God is killing soldiers to punish America for condoning homosexuality.
According to the church's Web site: "The Westboro Baptist Church has conducted over 34,000 peaceful demonstrations opposing the fag lifestyle of soul-damning, nation-destroying filth. America is rotten and our soldiers are rotten. You should be thankful when God deals with them."
Poor decision by Court of Appeals
Snyder's family sued the church and went to trial in 2007, alleging privacy invasion, intentional infliction of emotional distress and civil conspiracy. A jury awarded the family $2.9 million in compensatory damages and $5 million in punitive damages.
Westboro Church appealed the case, and the 4th U.S. Circuit Court of Appeals reversed the judgments a year later, siding with the church's claim that its First Amendment rights had been violated.
To add insult to injury, March 26 the Court of Appeals ordered Albert Snyder, the Marine's father, to pay $16,510 to the church for court fees.
The Court of Appeal's decision is an absolute disgrace to our court system.
First of all, there needs to be a fine line between verbal assault and freedom of speech. It's obvious the people of the Westboro Chruch were intentionally trying to hurt Snyder and his family. It's obvious they were disturbing the peace by disrupting the funeral.
This goes beyond free speech; it is malicious and criminal harassment.
Margie Phelps, daughter of the Westboro Church's founder, is the attorney representing the church in its appeals. She said the money the church receives from Snyder will be used to finance further demonstrations.
"They wanted to shut down the picketing, so now they're going to finance it," she said.
Snyder is taking his case to the Supreme Court, which he should. The church's demonstrations are an act of emotional violence and are destructive toward society. It's a shame that a court ruling will fund future protests. I sincerely hope the Supreme Court does the right thing and reverses the decision.
Funerals are not the place for protest
Funerals are a time and place where people practice their faith while mourning the loss of a loved one. They are private gatherings and nobody should use a funeral as a forum for their messages.
How these people can picket and say such awful things while using the name of God is beyond me. I'm not sure what Bible they are reading, but it certainly isn't the same one I know.
First John 4:8 says, "Whoever is without love does not know God, for God is love." Love does not mean bringing signs reading, "You're going to hell," and "Soldiers die, God laughs," to a soldier's funeral.
I wish the Westboro Baptist Church would appreciate the sacrifice soldiers make for their country, giving their lives to ensure our rights and liberties.
You may hate war, but you should show love to the soldiers. They deserve our respect.
Zach Pagano can be reached at paga7147@stthomas.edu.