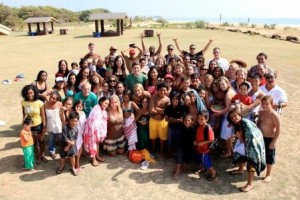 Normally, when people think of Hawaii they think of grass skirts, hula and relaxing on the beach.
But this January I was fortunate enough to study in Hawaii with the "Multicultural Communication in Diverse Organizations" course. It was a once-in-a-lifetime learning experience that I wouldn't have gotten anywhere else. But even after 12 successful years as a class, it is one of the study abroad courses being cut next year. I find it extremely unfortunate that other students will not be able to have this experience like I did.
Many people ask, "Why Hawaii?" We studied in Hawaii because of the microcosm of multiculturalism that our 50th state has to offer.
Our course examined the concepts, theories and realities of the way individuals and groups work and communicate in organizations where culture and multiculturalism play prominent roles.
We spent our first 14 days on Oahu. During this time, we had classroom sessions, guest presenters and guided tours. Our first-hand experience with culture at places like Iolani Palace and the Honolulu Academy of the Arts was unlike any we could ever receive in a classroom in Minnesota.
But the most important and beneficial part of our course was our service-learning project on Kauai. We spent the end of our class working with the Ke Kula Ni'ihau O Kekaha Learning Center. It is a school that educates students in kindergarten through 12th grade, established to strengthen the Ni'ihau dialect of the Hawaiian language.
These students welcomed us with open arms from the time we first walked through the door. We were instantly treated like 'Ohana,' which means family in Hawaiian. Right from the start, they couldn't stop giving us hugs and gifts.
I first realized the impact of our course on the Kekaha students as they began telling stories about past St. Thomas students who had visited their school. Their past experiences with Tommies left them with a positive attitude toward education. The trust and eagerness to learn is what made our group projects so successful.
The students from our course worked with Kekaha students in every grade. Some groups worked on painting, while others worked on traditional Hawaiian chants. My group of sixth graders drew pictures to correspond with an ancient Hawaiian legend. We worked on memorization, articulation and enunciation to record the legend as a voice-over to go with the pictures.
Our last day with the students was very emotional. We spent our last few hours having a picnic on the beach. During this time, some of the Kekaha students shared some of their traditional chant and hula with us. Then the time came when we had to say our goodbyes. Tears fell from the eyes of both the Kekaha students as well as students in our course. They told us they would miss us, and they couldn't wait for more students to come learn with them next year.
The news of the course cancellation came a couple days later. My fellow classmates and I were devastated when our professors told us.
Our professors told us the students and faculty at the Kekaha school were currently unaware of the news. However, we were told that Haunani Seward, director of the school, had written St. Thomas a letter a few days earlier.
In her letter, Seward explains the importance of our service learning project.
"Our association with the University of St. Thomas over the last 12 years has indeed been an exceptional learning opportunity for our students and hopefully for your students and staff alike," Seward wrote. "The students enrolled in the multicultural communication program are helping us provide a rich and diverse learning opportunity for our students."
It has taken years to build up the trust necessary to create such a significant project for them and for us. Our work at the Kekaha school incorporated meaningful partnerships into our coursework. Receiving the same multicultural experience in a service-learning project back in Minnesota would be impossible.
This course is too important to cut. I sincerely hope the university reverses its decision and provides another opportunity for this course to make a difference in the lives of St. Thomas students and students at the Kekaha Learning Center for years to come.
"With your consideration we wish to continue this learning exchange long into the future," Seward wrote.
And this is a learning exchange that is beneficial not only to the students in Hawaii, but to the development of St. Thomas students as morally responsible leaders who think critically, act wisely and work skillfully to advance the common good.
Zach Pagano can be reached at paga7147@stthomas.edu.